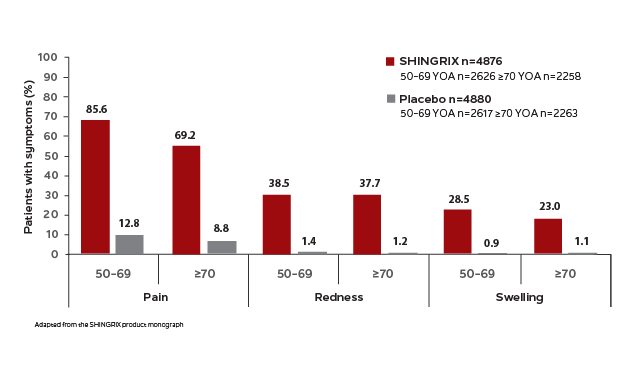 Solicited general adverse events within 7 days of vaccination from ZOE-50 and ZOE-70 studies (a subset of the total vaccinated cohort recorded with a 7-day diary card) 1*†‡§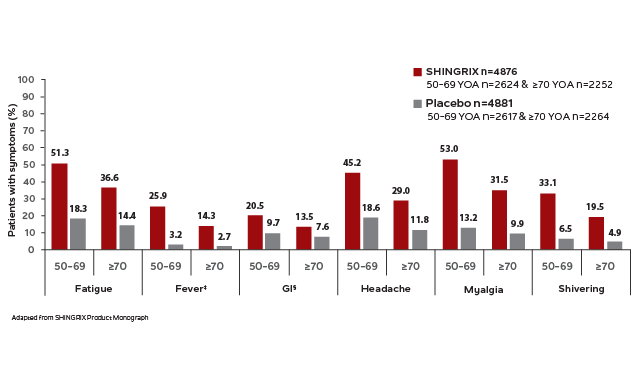 The majority of solicited adverse events seen with SHINGRIX were mild to moderate and were not long-lasting (median duration of 3 days). 1
TVC=total vaccinated cohort for safety included all subjects with at least one documented dose (n). GI=Gastrointestinal
Pooled data on solicited local and general adverse events were collected using standardized diary cards for 7 days following each vaccine dose or placebo (i.e., day of vaccination and the next 6 days) in a subset of subjects (n=4,884 receiving SHINGRIX, n=4,880 receiving placebo with at least one documented dose in the ZOE-50 and ZOE-70 studies).
* 7 days included day of vaccination and the subsequent 6 days.
† Solicited general adverse events are those experiences which do not occur at the site of injection and are temporally associated with the use of the vaccine, whether or not considered related.
‡ Fever defined as ≥37.5°C/99.5°F for oral, axillary, or tympanic route, or ≥38°C/100.4°F for rectal route.
§ Gastrointestinal symptoms including nausea, vomiting, diarrhea, and/or abdominal pain.