Immunogenicity Data
BEXSERO: Demonstrated immune response
Bexsero has demonstrated a protective immune response in infants, toddlers, children, adolescents, and adults. 1
87% - 100% of infants†, toddlers‡, children§, and adolescent‖ achieved titers considered protective 1 month after series completion with the 2-dose schedule. 1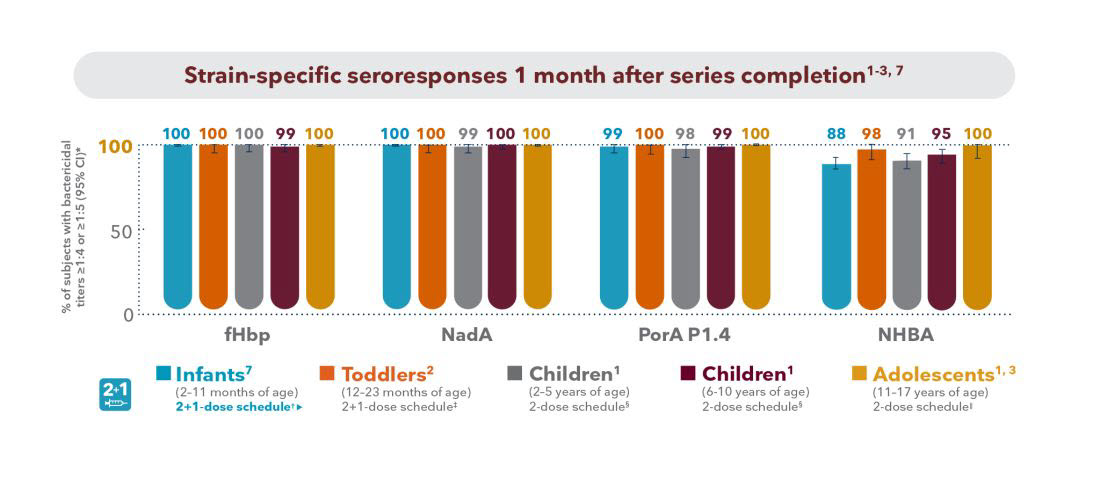 *Infants (2–11 months of age) and toddlers (12–23 months of age): Percentage of subjects who achieved an hSBA ≥1:5. children (2–10 years of age): Percentage of subjects who achieved an hSBA ≥1:4 against fHbp, NadA, PorA P1.4 antigens, and an hSBA ≥1:4. 1
†For the 2+1 dosing schedule, infants received BEXSERO AT 3 ½ and 5 months, with a booster at 11 months. 1,7
‡Vaccinations at 13, 15, and 27 months and of age; N=63–67. 2
§Data show in graph are for children 2-10 years of age following a 0,2-month schedule. Serum bactericidal antibody responses at 1 month following the second dose of BEXSERO given to children 2-10 years of age. 1
‖Two doses 1 month apart; N=638–639; N=46 for NHBA. 1
¶The Results showed that 2 years after the last dose the persistence of bacterial antibodies remained above the putative threshold of protection (hSBA ≥1:4) in more than 50% of participants for 5 out of 8 strains tested. 4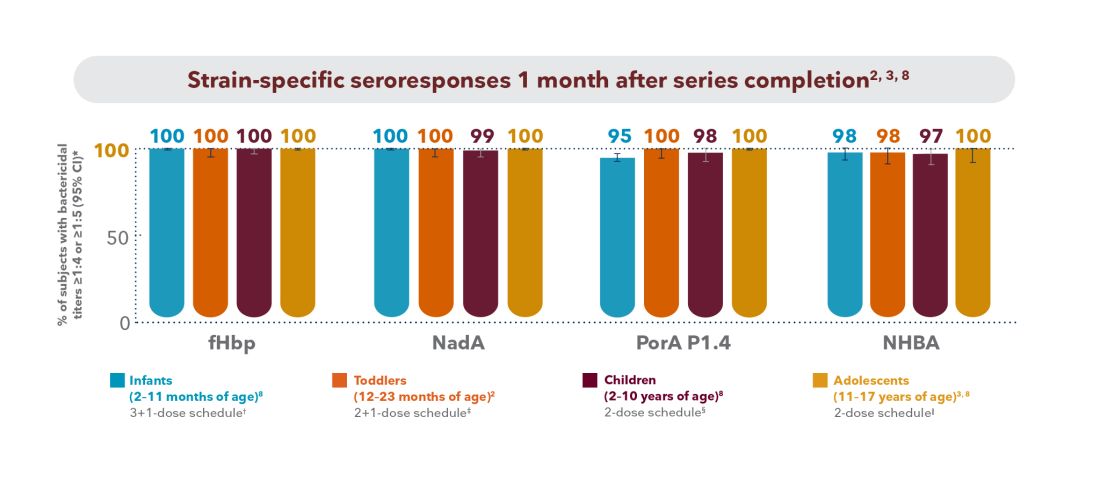 *Infants (2–11 months of age), toddlers (12–23 months of age), and children (2–10 years of age): Percentage of subjects who achieved an hSBA ≥1:5. Adolescents (11–17 years of age): Percentage of subjects who achieved an hSBA ≥1:4.2,3,8
†Vaccinations at 2, 4, and 6 months of age, and booster at 12 months of age; N=421; N=100 for NHBA.8
‡Vaccinations at 13, 15, and 27 months and of age; N=63–67. 2
§Vaccinations at 24 and 26 months of age; N=100–108. 8
‖Two doses 1 month apart; N=638–639; N=46 for NHBA. 8
¶The Results showed that 2 years after the last dose the persistence of bacterial antibodies to remain above the putative threshold of protection (hSBA ≥1:4) in more than 50% of participants for 5 out of 8 strains tested. 4
Persistence of bactericidal antibodies in infants has been demonstrated up to 28 months after primary series completion and booster dose. 4
Strain Coverage
Estimating Strain Coverage with MATS
Meningococcal Antigen Typing System (MATS) analysis of 1000 different invasive MenB isolates collected in 5 EU countries between 2007 and 2008 predicted that 73-87% (95% CI: 63- 90%) would potentially be covered by Bexsero. 1,5
88% of disease-causing strains* have been shown to be killed, in hSBA, by serum from individuals† vaccinated with BEXSERO (95% CI: 72–95%). 5
For MenB, only hSBA is reliable as a predictor of protection against disease. 6
*Using a representative panel of 40 MenB isolates (from England and Wales in 2007–2008). 5
†Pooled serum derived from 69 infants. 5
References:
Vesikari T, Prymula P, Merrall E, Kohl I, Toneatto D, Dull PM. Meningococcal serogroup B vaccine (4CMenB): booster dose in previously vaccinated infants and primary vaccination in toddlers and two-year old children. Vaccine. 2015;33:3850-3858.
Santolaya ME, O'Ryan ML, Valenzuela MT, et al. Immunogenicity and tolerability of a multicomponent meningococcal serogroup B (4CMenB) vaccine in healthy adolescents in Chile: a phase 2b/3 randomised, observer-blind, placebo-controlled study. Lancet. 2012;379:617-624.
Snape MD, Phillip J, John TM, et al. Bactericidal antibody persistence 2 years after immunization with 2 investigational serogroup B meningococcal vaccines at 6, 8 and 12 months and immunogenicity of preschool booster doses: a follow-on study to a randomized clinical trial. Pediatr Infect Dis J. 2013;32:1116–1121.
Frosi G, Biolchi A, Sapio ML, et al. Bactericidal antibody against a representative epidemiological meningococcal serogroup B panel confirms that MATS underestimates 4CMenB vaccine strain coverage. Vaccine. 2013;31:4968-4974.
Granoff DM, Pelton S, Harrison H. Meningococcal vaccines. In: Plotkin SA, Orenstein WA, Offit PA, eds. Vaccines. 6th ed. Philadelphia, PA: Saunders; 2013:388-418.
Martinon-Torres F, Safadi MAP, Martinez AC, et al. Reduced schedules of 4CmenB vaccine in infants and catch-up series in children: immunogenicity and safety results from a randomized open-label phase 3b trial. Vaccine 2017; 35(28):3548-3557.
Prescription Only Medicine.
Before prescribing please consult the full SPC which you can request from GSK or access on the website of the Pharmaceutical Services of the Ministry of Health http://www.phs.moh.gov.cy/web/guest/drug-search
Trade marks are owned by or licensed to the GSK group of companies.
© 2020 GSK group of companies or its licensor.