What are the symptoms*?

1

2
Early symptoms of meningococcal disease are difficult to distinguish from those of more common but less serious illnesses. This lack of distinct IMD-specific early symptoms often results in initial misdiagnosis.
It also leads to delays in taking appropriate and potentially life-saving treatment options.
Intervention often does not occur until identification of later symptoms that are IMD-specific, such as:
Haemorrhagic rash (i.e., rash associated with bleeding under the skin surface)

Neck stiffness
IMD can progress from non-specific symptoms in the first 0–8 hours to close to death by 24 hours:

1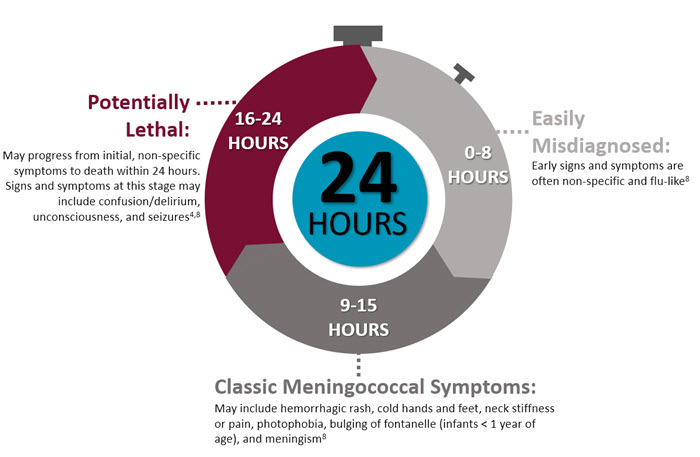 Early signs and symptoms are non-specific and can resemble other, less serious conditions

N. meningitidis replicates rapidly in the body, classic meningitis symptoms appear such as cold hands/feet, haemorrhagic rash, neck stiffness, photophobia, meningism, bulged fontanelle (in infants < 1 year of age)
May progress from non-specific symptoms to death within 24 hours:

Breathing difficulty
Confusion/delirium
Unconsciousness
Seizure
Septic shock
Multi-organ failure
Death

Prescription Only Medicine.
Before prescribing please consult the full SPC which you can request from GSK or access on the website of the Pharmaceutical Services of the Ministry of Health http://www.phs.moh.gov.cy/web/guest/drug-search
Trade marks are owned by or licensed to the GSK group of companies.
© 2020 GSK group of companies or its licensor.