Dosage & administration
Indication
Incruse is indicated as a maintenance bronchodilator treatment to relieve symptoms in adult patients with chronic obstructive pulmonary disease (COPD). 1
Dosage
The recommended dose is one inhalation of Incruse once daily. 1
Incruse should be administered once daily at the same time each day to maintain bronchodilation. The maximum dose is one inhalation of Incruse once daily. 1
No dose adjustment for Incruse is needed in: 1
patients with renal impairment

patients with mild or moderate hepatic impairment

patients aged over 65 years.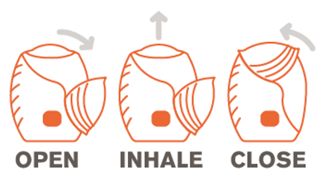 OPEN the cover when ready to take a dose. Slide the cover down until a "click" is heard. The medicinal product is now ready to be inhaled. The dose counter counts down by 1 to confirm.
Breathe out as far as is comfortable and then INHALE with one long, steady, deep breath in. This breath should be held in for as long as possible (at least 3-4 seconds). Remove the inhaler from the mouth. Breathe out slowly and gently. The medicine may not be tasted or felt, even when using the inhaler correctly.
CLOSE the inhaler by sliding the cover upwards as far as it will go, to cover the mouthpiece. The mouthpiece of the inhaler may be cleaned using a dry tissue before closing the cover.
How to use Ellipta inhaler video
Watch our short video for patients on how to use the Ellipta inhaler.
For more information on the benefits of the Ellipta device, click here.
Before prescribing please consult the full SPC which you can request from GSK or access on the website of the Pharmaceutical Services of the Ministry of Health http://www.phs.moh.gov.cy/web/guest/drug-search
References:
Trade marks are owned by or licensed to the GSK group of companies.
© 2018 GSK group of companies or its licensor.