DUAC: HELPING PATIENTS WITH ACNE FOR OVER 15 YEARS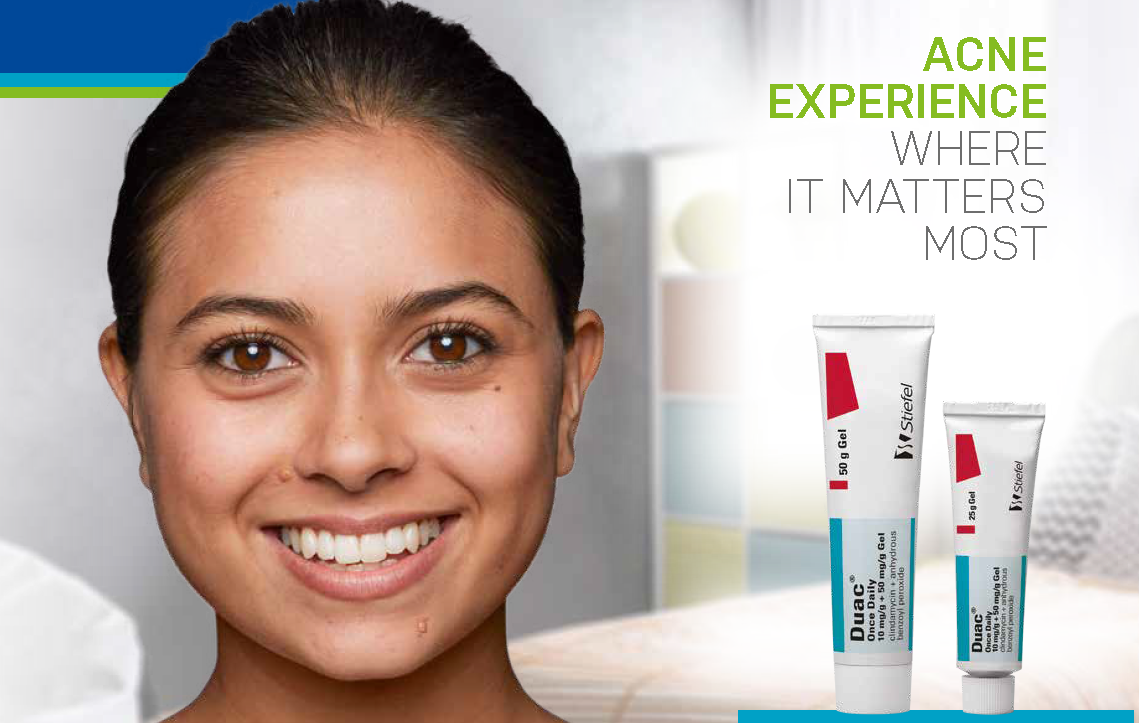 When it comes to choosing a first-line treatment for patients with mild to moderate acne, you need something they can rely on.
Duac has been helping patients with mild to moderate acne for over 15 years
Duac is a fixed-dose combination that brings together clindamycin and benzoyl peroxide, in a simple and convenient once-daily gel

1
Delivering visible improvements for patients
Duac provides comparable improvements in inflammatory and noninflammatory lesions to adapalene/BPO at week 12, with a faster time to treatment success* and favourable tolerability

4
Duac is a recommended fixed-dose combination
Duac: the European Dermatology Forum (EDF) acne treatment guidelines give a high strength recommendation for fixed-dose combinations of benzoyl peroxide (BPO) + clindamycin (such as Duac) or BPO + adapalene as therapy for the treatment of mild to moderate papulopustular acne

8

The strength of recommendation considered all aspects of the treatment decision, such as efficacy, safety profile, patient preference, and the reliability of the existing body of evidence

8
* Defined as an improvement of 2 grades or more from baseline on the investigator's static global scale assessment (ISGA) scale (a 6-point scale [0=clear skin with no inflammatory lesions; 5=severe acne with many inflammatory and non-inflammatory lesions and more than a few nodular lesions]) 4
† In two eight-week studies, with a randomized, single-blind, 2-week split-face phase, a higher number of patients were more satisfied with Duac than adapalene/BPO during the first (65.3% vs. 31.9%) and second week of treatment (56.2% vs. 42.5%, no p value has been provided). Both treatments were rated equally effective at reducing acne break outs. Tolerability was significantly better with Duac than adapalene/BPO as reported by investigators and patients (p<0.05).
Duac is a registered trademark of the GlaxoSmithKline group of companies.
Adverse events should be reported. Reporting forms and information can be found at https://yellowcard.mhra.gov.uk/ or search for MHRA Yellowcard in the Google Play or Apple App store. Adverse events should also be reported to GlaxoSmithKline on 0800 221 441.