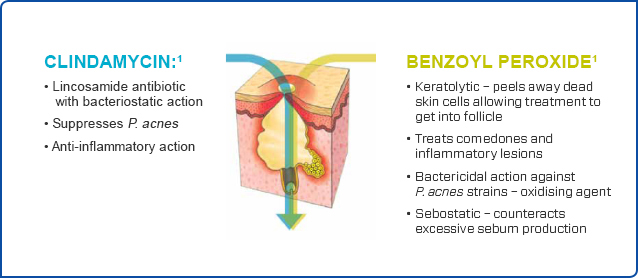 The inclusion of benzoyl peroxide in Duac reduces the potential for the emergence of organisms resistant to clindamycin 1

Antibiotics kill susceptible bacteria and the addition of BPO destroys resistant strains, reducing their proliferation

8

EDF Guideline recommendations for reducing antibiotic resistance 9

"The use of topical and systemic antibiotics should be optimized by using appropriate combinations for a predefined duration, in order to reduce the development of antibiotic resistance." 9
Duac is a registered trademark of the GlaxoSmithKline group of companies.
Adverse events should be reported. Reporting forms and information can be found at www.mhra.gov.uk/yellowcard or search for MHRA Yellowcard in the Google Play or Apple App store. Adverse events should also be reported to GlaxoSmithKline on 0800 221 441.