What is stopping you from prescribing Seretide Evohaler in asthma?
Seretide Evohaler is over £5 cheaper than Fostair at medium dose1,2
How does the price of Seretide Evohaler compare to Fostair pMDI?
30 day supply for adult asthma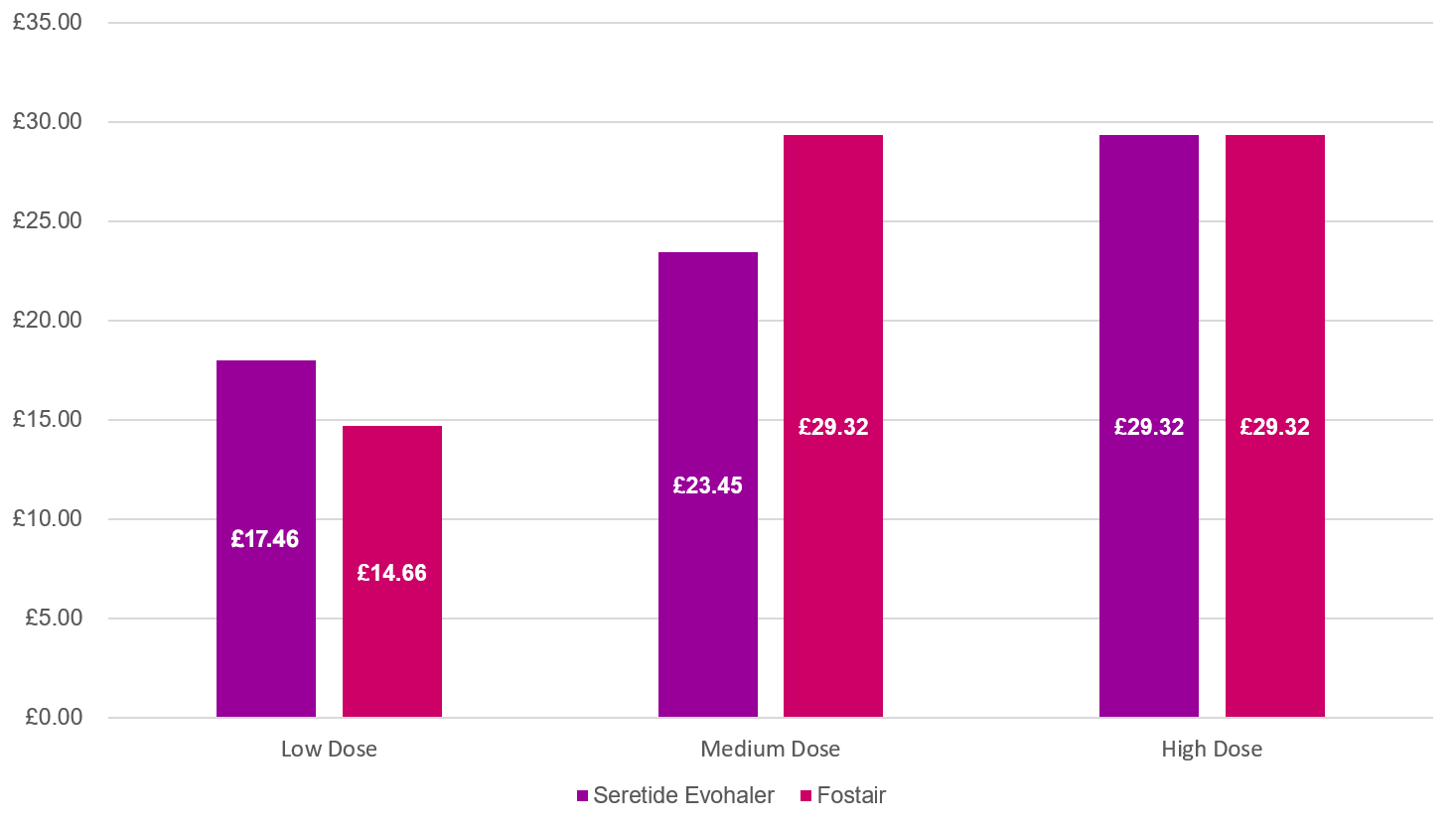 | | | |
| --- | --- | --- |
| Dose | Seretide Evohaler | Fostair MDI |
| Low | 25/50mcg (2 puffs B.D) | 100/6mcg (1 puff B.D) |
| Medium | 25/125mcg (2 puffs B.D) | 100/6mcg (2 puffs B.D) |
| High | 25/250mcg (2 puffs B.D) | 200/6mcg (2 puffs B.D) |
What are the differences between the Seretide Evohaler and Fostair pMDI paediatric licenses?
Seretide Evohaler 25/50mcg 2 puffs b.d has a license for paediatric asthma for patients 4 years and above, and all strengths are licensed in adolescent asthma for patients 12 years and above4.
Fostair is not recommended for children & adolescents under 18 years5.
Does particle size matter?
Evidence suggests that ideally, an inhaled asthma medication should reach both the large and small airways to help ensure optimal deposition across the entire lung.6
Seretide Evohaler particles are in the optimal size range (1-5 microns) for pulmonary delivery7 (fluticasone propionate 125mcg/dose, 2.9 microns and salmeterol 25mcg/dose, 3.4 microns8)
A head-to-head RCT comparing Fostair pMDI extrafine particles with Seretide Evohaler in patients with asthma demonstrated no difference in efficacy or tolerability between the two treatments.9
Are you aware of the limitations of MART?
When clinically indicated, maintenance and reliever therapy (MART) can be a viable option for patients. However, studies evaluating formoterol/budesonide as MART showed that:
With a MART, only 17.1% of patients achieved controlled asthma after 1 year of variable dosing therapy10.
A review of patients using a MART showed they experienced symptoms 4 days a week11
*This data is extrapolated to one week from studies of 6-12 months in duration (rounded to the nearest day)
Despite receiving MART, 80-95% of physicians still prescribed an additional SABA reliever for their patients with asthma12
Supporting your patients to achieve well controlled asthma
References
MIMS; Fostair 100/6 list price per pack for the treatment of asthma (accessed April 2022)
BTS/SIGN Guideline for the Management of Asthma 2019. Table 12 (comparison of medium doses)
MIMS; Fostair 200/6 list price per pack for the treatment of asthma (accessed April 2022)
Seretide Evohaler SPC
Fostair pMDI SPC (accessed April 2022)
Scichilone N

et al.

J Asthma Allergy 2013; 6:11-21
El Baou

et al.

BMC Pulmonary Medicine 2017;17:31
Nagel

et al.

J. Aer Med 2002;5:427-433
Papi A; Allergy; 2007;62;1182-1188
Bateman ED,

et al.

J Allergy Clin Immunol 2010;125(3):600-608.
Chapman KR,

et al.

Thorax 2010;65(8):747-752.
Chapman KR

et al

. Respir Med 2021; 186:1-10.
Adverse events should be reported. Reporting forms and information can be found at https://yellowcard.mhra.gov.uk/ or search for MHRA Yellowcard in the Google Play or Apple App store. Adverse events should also be reported to GlaxoSmithKline on 0800 221 441
Trademarks are owned by or licensed to the GSK group of companies.
April 2022 | PM-GB-FPS-WCNT-210002 (V2.0)