Administration and storage
How to prepare Varilrix

[1]
Instructions for reconstitution of the vaccine with solvent presented in pre-filled syringe
Varilrix must be reconstituted by adding the entire content of the pre-filled syringe of solvent to the vial containing the powder.
To attach the needle to the syringe, refer to the below drawing.
However, the syringe provided with Varilrix might be slightly different than the syringe described in the drawing.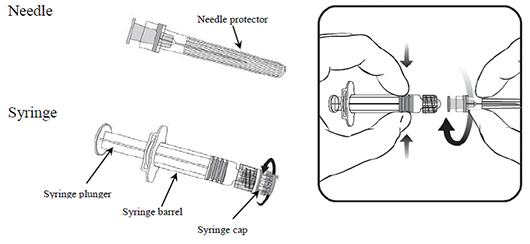 Holding the syringe barrel in one hand (avoid holding the syringe plunger), unscrew the syringe cap by twisting it anticlockwise.

To attach the needle to the syringe, twist the needle clockwise into the syringe until you feel it lock. (see picture)

Remove the needle protector, which on occasion can be a little stiff. Add the solvent to the powder. After the addition of the solvent to the powder, the mixture should be well shaken until the powder is completely dissolved in the solvent. After reconstitution, the vaccine should be used promptly.
A new needle should be used to administer the vaccine.
Withdraw the entire contents of the vial.
Any unused product or waste material should be disposed of in accordance with local requirements.
How to administer Varilrix

[1]
Varilrix is for subcutaneous administration in the deltoid region or in the anterolateral area of the thigh.
Varilrix must not be administered intravascularly or intradermally.
Due to minor variations of its pH, the colour of the reconstituted vaccine may vary from clear peach to pink coloured solution. The solvent and the reconstituted vaccine should be inspected visually for any foreign particulate matter and/or variation of physical aspect prior to administration. In the event of either being observed, discard the solvent or the reconstituted vaccine.
Storage
Storage Varilrix should be stored in a refrigerator between +2°C to +8°C.

[1]

Shelf-Life When stored at the recommended temperature of +2°C and +8°C, the shelf-life of Varilrix is 24 months.

[1]

Stability Varilrix should be used immediately after reconstitution. If not used immediately, in-use storage times and conditions prior to use are the responsibility of the user and should normally not be longer than 1 hour at +2°C to +8°C (in a refrigerator).

[1]
Adverse events should be reported. Reporting forms and information can be found at www.mhra.gov.uk/yellowcard or search for MHRA Yellowcard in the Google Play or Apple App store. Adverse events should also be reported to GlaxoSmithKline on 0800 221 441.
Varilrix is a registered trademark of the GlaxoSmithKline group of companies