Severe Asthma Referrals: This is Real Life Part 2

Summary:
This webinar has been designed for all healthcare professionals involved in referring severe asthma patients into tertiary care.

Severe asthma assessments at a tertiary referral centre: In this webinar, you'll hear from severe asthma expert, Dr. Pujan Patel. Dr. Patel will be sharing key information from his role as Respiratory Consultant at The Royal Brompton about what makes a good severe asthma referral and the role of the MDT when a severe asthma patient has been referred.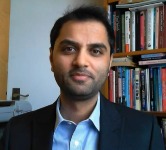 Dr Pujan Patel
Respiratory Consultant, The Royal Brompton, London
Dr Pujan Patel is a Consultant in Respiratory Medicine with expertise in Severe Asthma management at the Royal Brompton Hospital.
Having completed fellowships in both Respiratory and Critical Care Medicine in the United States, he joined the Brompton's Severe Asthma service in managing the UK's largest cohort of severe asthmatics on asthma biologic therapies. He is responsible for the assessment of new tertiary referrals to the service and conducts weekly biologic MDTs to identify suitable biologic candidates.
He serves on various subgroup committees for the British Thoracic Society (BTS) and American Thoracic Society (ATS) and continues to engage in medical education and teaching.

Adverse events should be reported. Reporting forms and information can be found at https://yellowcard.mhra.gov.uk/ or search for MHRA Yellowcard in the Google Play or Apple App store. Adverse events should also be reported to GlaxoSmithKline on +44 (0)800 221 441