Indication

1
Bexsero is indicated for active immunisation of individuals from 2 months of age and older against invasive meningococcal disease caused by Neisseria meningitidis group B.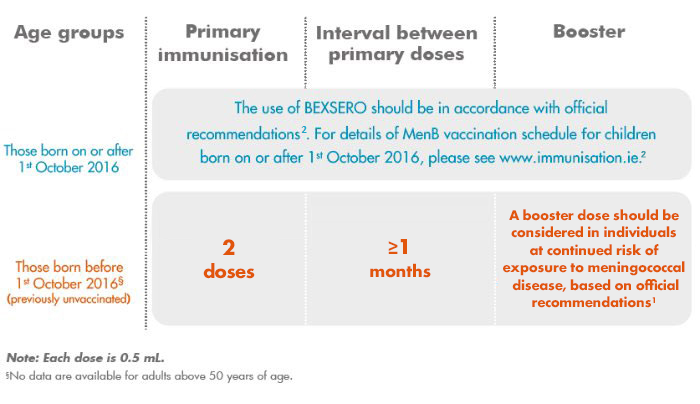 The use of this vaccine should be in line with official recommendations.
Coadministration:
Bexsero can be given concomitantly with any of the following vaccine antigens, either as monovalent or as combination vaccines 1:
— Meningococcal groups A, C, W, Y conjugate
— Diphtheria, tetanus, acellular pertussis, inactivated polio
— Haemophilus influenzae type b
— Hepatitis B
— Heptavalent pneumococcal conjugate
— Measles, mumps, rubella
— Varicella
Shelf life: 3 years

Store in a refrigerator (2°C–8°C)

Do not freeze

Store in the original package in order to protect from light

Upon storage, a fine off-white deposit may be observed in the prefilled syringe containing the suspension

Before use, the pre-filled syringe should be well shaken in order to form a homogeneous suspension.
Adverse events should be reported directly to the Health Products Regulatory Authority (HPRA) on their website: www.hpra.ie. Adverse events should also be reported to GlaxoSmithKline on 1800 244 255.
Bexsero is a registered trademark of the GlaxoSmithKline Group of Companies