Review the latest evidence on the impact of dutasteride-tamsulosin combination on sexual function domains in BPH patients
Review clinical data highlights from the first domain specific prospective randomised placebo-controlled study of the impact of dutasteride/tamsulosin combination therapy on sexual function domains in sexually active men with lower urinary tract symptoms (LUTS) secondary to benign prostatic hyperplasia (BPH).
Highlights: [1]
First study to prospectively assess domains of sexual function in Benign Prostatic Hyperplasia (BPH) using validated Male Sexual Health Questionnaire (MSHQ) scores*

The decrease in mean total MSHQ score was greater in the DUT-TAM FDC group vs placebo from baseline to month 12 (p<0.001)

The study findings suggest the erection domain may not be a significant contributor to sexual dysfunction associated with dutasteride-tamsulosin fixed dose combination (DUT-TAM FDC) therapy (p value not signifcant compared to placebo)

The data from this study suggest that the impact on ejaculatory (p<0.001 compared to placebo at all post-baseline visits) and satisfaction (p<0.05 compared to placebo at all post-baseline visits) domains of the MSHQ are the main drivers of sexual dysfunction associated with DUT-TAM FDC therapy

Number of unresolved cases of ED six months after DUT-TAM FDC treatment discontinuation (13/243 vs 12/246 in placebo) is small and comparable between treatment groups suggesting persistent ED has not been observed in this study

Number of unresolved cases of EjD decreased in 6 month follow up period but remained higher in DUT-TAM FDC compared to placebo (23/243 vs 5/246)

The clinically relevant impact of EjD AEs and their potential correlation to semen volume reduction, as previously reported with 5-alpha reductase inhibitors, are to be evaluated further

DUT-TAM FDC safety profile was similar to previous RCTs and consistent with current labelling

[2]
ED: erectile dysfunction, EjD: ejaculation dysfunction, AEs: adverse events, RCTs: Randomised Controlled Trial
Study design: This European and Australian double-blind, placebo-controlled, parallel-group study was conducted at 51 centres. Inclusion criteria: age ≥50 years, International Prostate Symptom Score ≥12, prostate volume ≥30 cc, prostate-specific antigen 1.5–10 ng/mL. Patients were randomised 1:1 to DUT-TAM FDC therapy (n=243) or placebo (n=246) for 12 months. Patients with unresolved sexual AEs at the end of study were followed up for additional 6 months. The change from baseline to Month 12 on the total MSHQ (primary endpoint) and MSHQ erection, ejaculation and satisfaction domains.
*16 questions; range: 7–80; higher scores indicate better sexual function. Erection, questions 1–3; range: 0–15; ejaculation, questions 5–11; range 1–35; satisfaction questions 13–18; range 6–30.
References:
Roehrborn CG, Manyak MJ, Palacios-Moreno JM et al. BJU Int. Accepted Author Manuscript. doi:10.1111/bju.14057.
Combodart Summary of Product Characteristics Last Accessed: May 2018 www.medicines.ie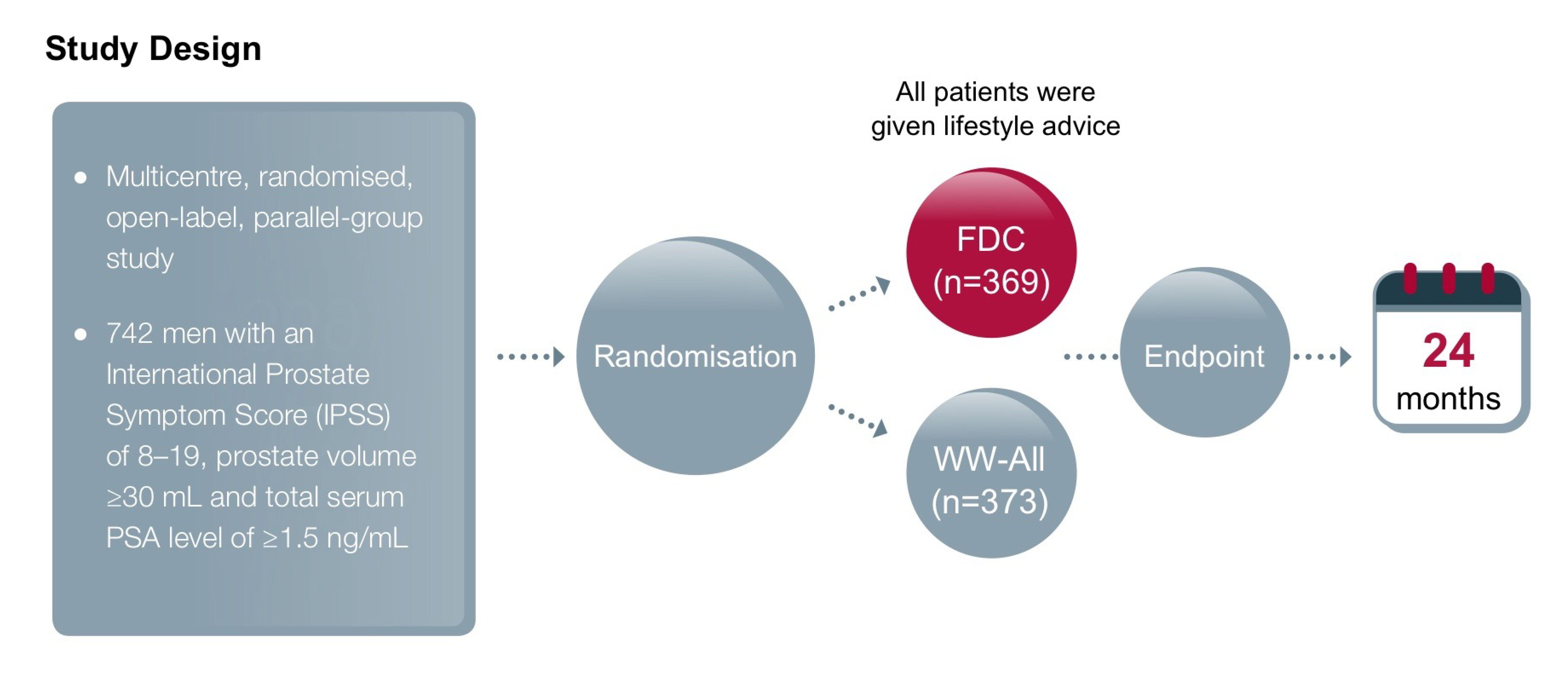 The primary endpoint was symptomatic improvement from baseline to 24month, measured by the IPSS

Secondary outcomes included BPH clinical progression, impact on quality of life and safety
IPSS: International Prostate Symptom Score; PSA: Prostate-Specific Antigen; FDC: Fixed-dose combination; WW: Watchfull waiting- All
Rapid
Symptom improvement, in 1 month as compared to watchful waiting with initiation of tamsulosin if symptoms did not improve+[1]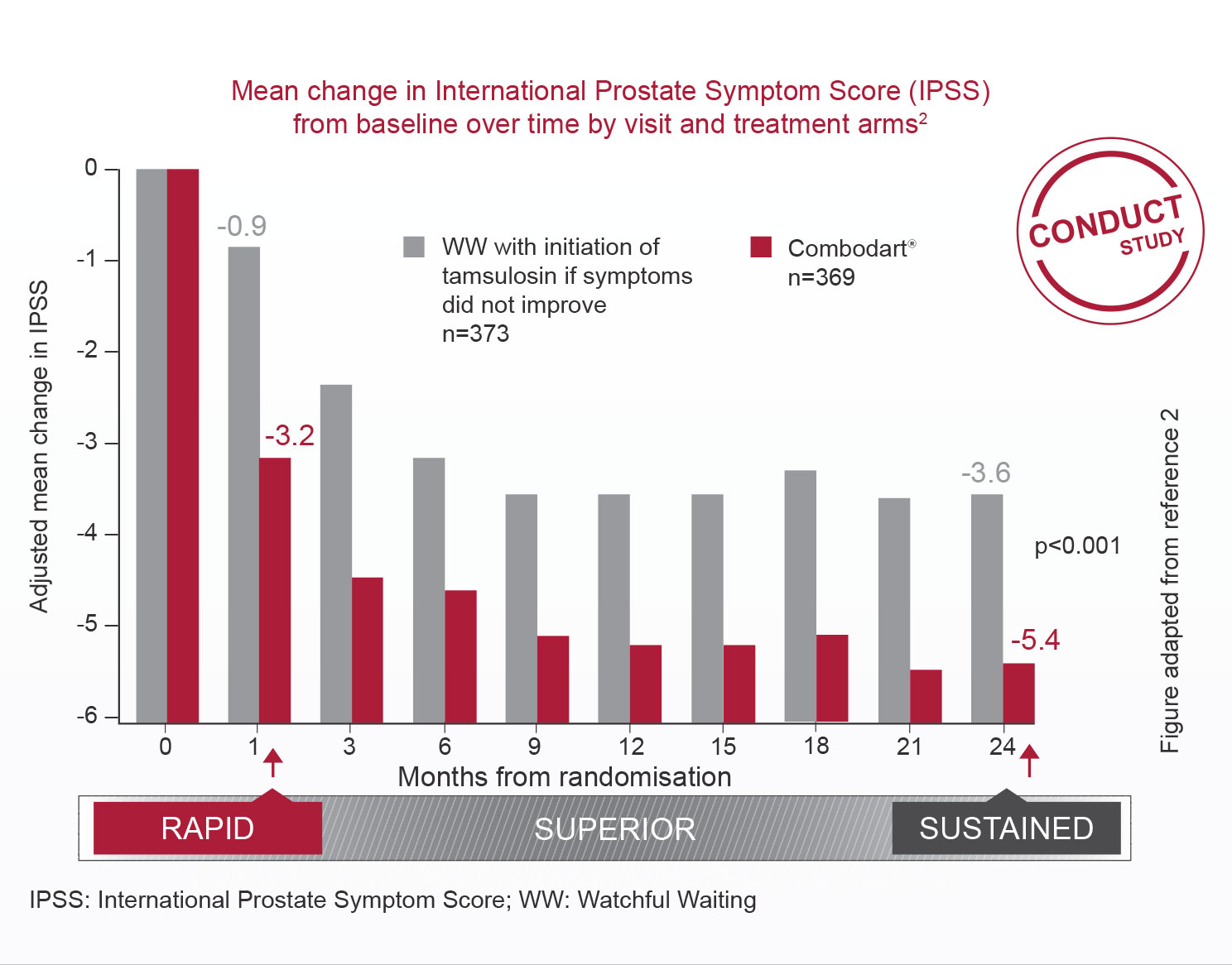 # IPSS: International Prostate Symptom Score
Sustained
Symptom improvement, compared with tamsulosin monotherapy from month 9 to 48 [1*]
Combodart offers superior and sustained symptom improvement at 4 years vs both tamsulosin and dutasteride monotherapy.
Mean adjusted change in International Prostate Symptom Score (IPSS) from baseline by visit and treatment group.
Combodart's symptom improvement is superior vs tamsulosin from 9 months.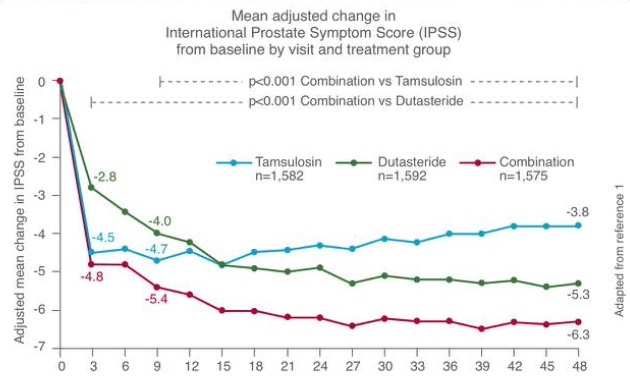 Patients in CombAT presented with moderate symptoms and had prostate volume ≥ 30cm3. Data based on dutasteride and tamsulosin free combination. Bioequivalence has been demonstrated with Combodart. Secondary Endpoint.
Reduced
CombAT data -Combodart reduced risk of AUR and the need for BPH-related surgery vs tamsulosin monotherapy
[1+]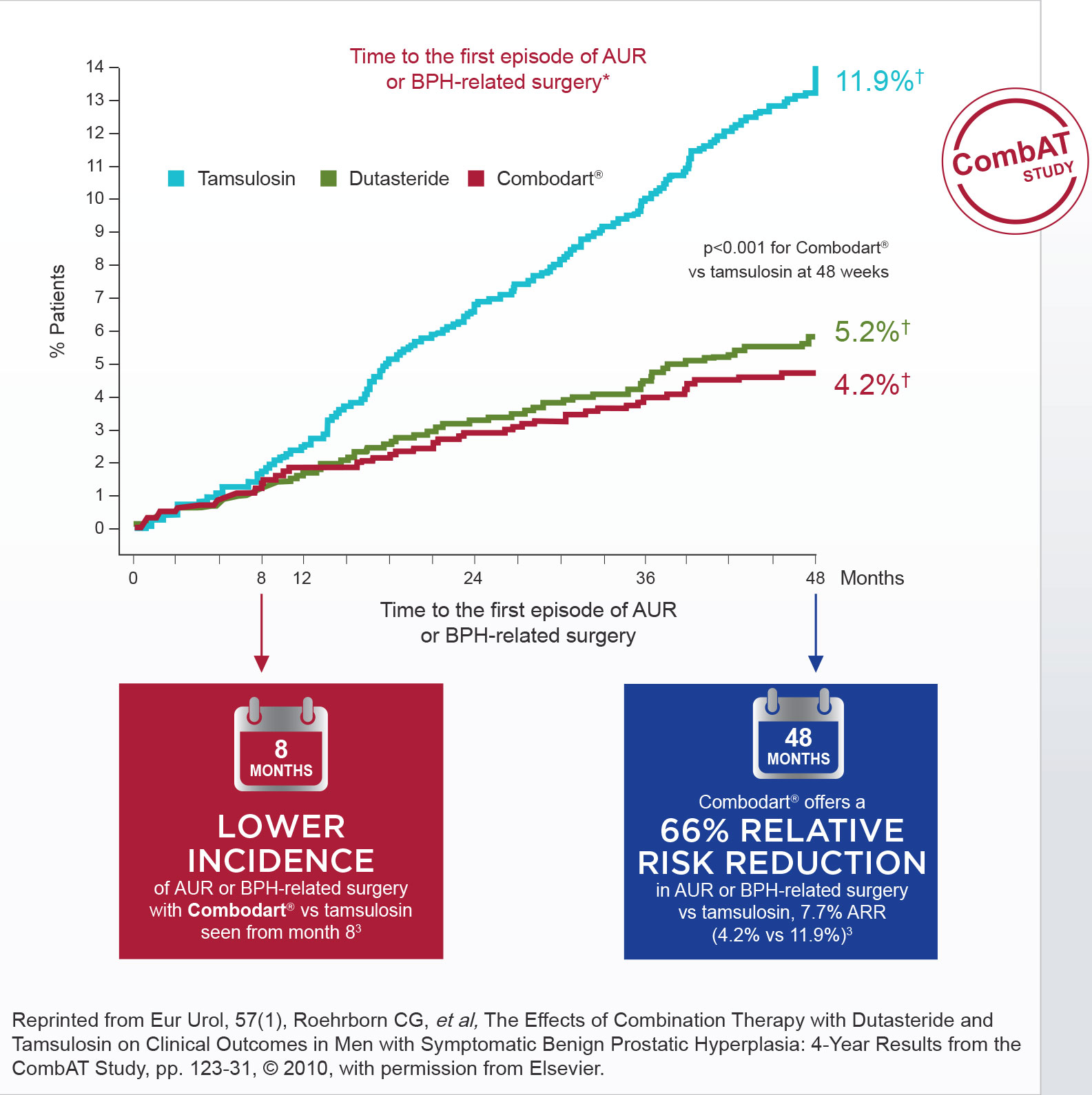 AUR: Acute Urinary Retention
ARR: Absolute Risk Reduction
*CombAT efficacy and safety data are based on dutasteride and tamsulosin combination. Bioequivalence has been demonstrated between Combodart and separate administration of combination [1]
† 4-year incidences of AUR or BPH-related surgery (primary end point)
Adverse events should be reported directly to the HPRA; Freepost, Pharmacovigilance Section, Health Products Regulatory Authority, Earlsfort Terrace, Dublin 2, Tel: +353 1 676 4971 medsafety@hpra.ie. Adverse events should also be reported to GlaxoSmithKline on 1800 244 255.
Combodart is registered trademark of the GlaxoSmithKline Group of companies