Combodart Efficacy
Combodart is indicated for the management of moderate to severe symptomatic benign prostatic hyperplasia (BPH).
Achieving sustained symptom relief and prevention of disease progression with medical therapy?
(as measured by reductions in acute urinary retention and need for BPH-related surgery)
The table belows explains how the two medicines combined in Combodart, dutasteride (5ARI) and
tamsulosin hydrochloride (α-blocker), work together to affect BPH symptoms and slows disease progression therefore reducing long-term complications in a patient.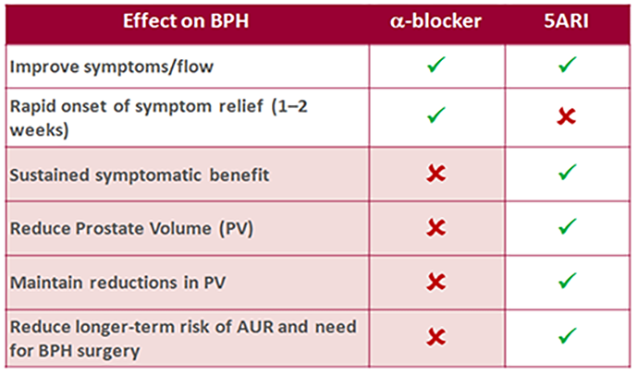 References:
Oelke M et al. Guidelines on management of male lower urinary tract symptoms (LUTS),
including Benign Prostatic Obstruction (BPO). European Association of Urology, 2012.

Madersbacher S et al. Eur Urol 2004; 46:547–554.
Combodart offers superior and sustained symptom improvement at 4 years vs both tamsulosin and dutasteride monotherapy
Mean adjusted change in International Prostate Symptom Score (IPSS) from baseline by visit and treatment group
Combodarts's symptom improvement is superior vs tamsulosin from 9 months.
Patients in CombAT presented with moderate symptoms and had prostate volume ≥ 30cm3. Data based on dutasteride and tamsulosin free combination. Bioequivalence has been demonstrated with Combodart. Secondary Endpoint.
Reference:
Roehrborn CG et al. Eur Urol 2010;57:123–31
Combodart significantly reduces the risk of AUR and BPH-related surgery Relative Risk Reduction vs tamsulosin at 4 years

Absolute Risk Reduction (AAR) 8%
AUR = acute urinary retention

*No significant difference was seen between dutasteride and tamsulosin (Combodart) therapy vs dutasteride alone (19.6% RRR, p=0.18).
Reference:
Roehrborn CG et al. Eur Urol 2010;57:123–31
Combodart reduces prostate volume and decreases PSA* in BPH patients [1],[2]
*the reduction in mean serum PSA by approximately 50% after six months of treatment. [1]
PSA levels in BPH patient receiving Combodart (schematic representation) [1],[2],[3]
References:
Roehrborn CG et al. Urology 2002; 60:434-441.

Debruyne F et al. Eur Urol 2004; 46: 488-495.
Adverse events should be reported to the Health Products Regulatory Authority (HPRA) using an Adverse Reaction Report Form obtained either from the HPRA or electronically via the website at www.hpra.ie. Adverse events should also be reported to GlaxoSmithKline on 1800 244 255.
Combodart is registered trademark of the GlaxoSmithKline Group of companies