A complete regimen offering convenient dosing for your patients¹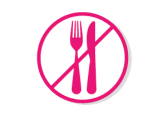 Few significant drug-drug interactions

A separate preparation of dolutegravir is available where a dose adjustment is indicated due to drug-drug interactions (e.g. rifampicin, carbamazepine, oxcarbazepine, phenytoin, phenobarbital, St. John's wort, etravirine (without boosted protease inhibitors), efavirenz, nevirapine, or tipranavir/ritonavir. In these cases the physician should refer to the individual product information for dolutegravir.
Co-administration with medicinal products with narrow therapeutic windows, that are substrates of organic cation transporter (OCT) 2, including but not limited to fampridine (also known as dalfampridine) is contraindicated.
For further information on the DDI profile of Dovato please refer to the Summary of Product Characteristics.

DDIs Between EACS-Recommended Initial Regimens Available as a Single Pill and 43 Commonly Prescribed Non-ARVs as Defined by EACS*
DDIs Between Single-Pill Regimens and Commonly Prescribed Non-ARVs²*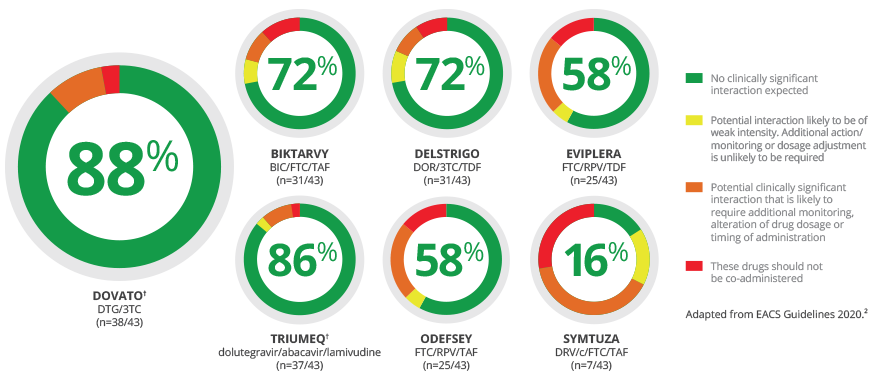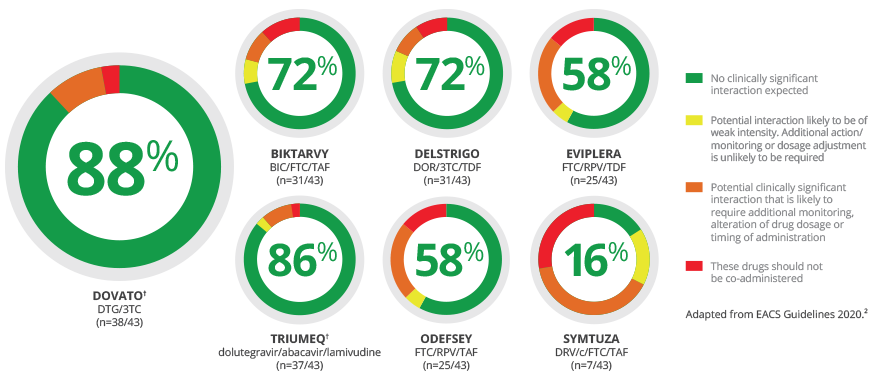 * Includes 43 non-ARVs across cardiovascular drugs, CNS drugs, anti-infectives and miscellaneous (eg, antacids, PPIs, H2 blockers, methadone and St John's wort) included in EACS Guidelines as commonly co-prescribed or of particular clinical relevance. Original data source: University of Liverpool drug interaction data.²
†Contraindicated with fampridine.
Adverse events should be reported to the Health Products Regulatory Authority (HPRA) using an Adverse Reaction Report Form obtained either from the HPRA or electronically via the website at www.hpra.ie. Adverse reactions can also be reported to the HPRA by calling (01) 6764971. Adverse events should also be reported to GlaxoSmithKline on 1800 244 255.

Dovato is a registered trade mark of the ViiV Healthcare group of companies or its licensor.

Date of preparation: December 2020 PM-IE-DLL-WCNT-200021