NO TIME-OF-DAY
RESTRICTIONS
CAN BE TAKEN WITH OR WITHOUT FOOD
FEW SIGNIFICANT DRUG-DRUG INTERACTIONS
Minimal effect on metabolism via the CYP3A4 pathway

No known interactions with contraceptives, antihypertensives, proton pump inhibitors, statins, PDE-5 inhibitors or recreational drugs
Avoid chronic co-administration of sorbitol and similar solutions

Dose adjustment of metformin may be required

Dose adjustment of DTG required for rifampicin, carbamazepine, oxcarbazepine, phenytoin, phenobarbital and St. John's wort

Timing of dose will need to be adjusted if co-administered with polyvalent cation-antacids

Timing of dose may need to be adjusted with supplements or multivitamins containing calcium, iron or magnesium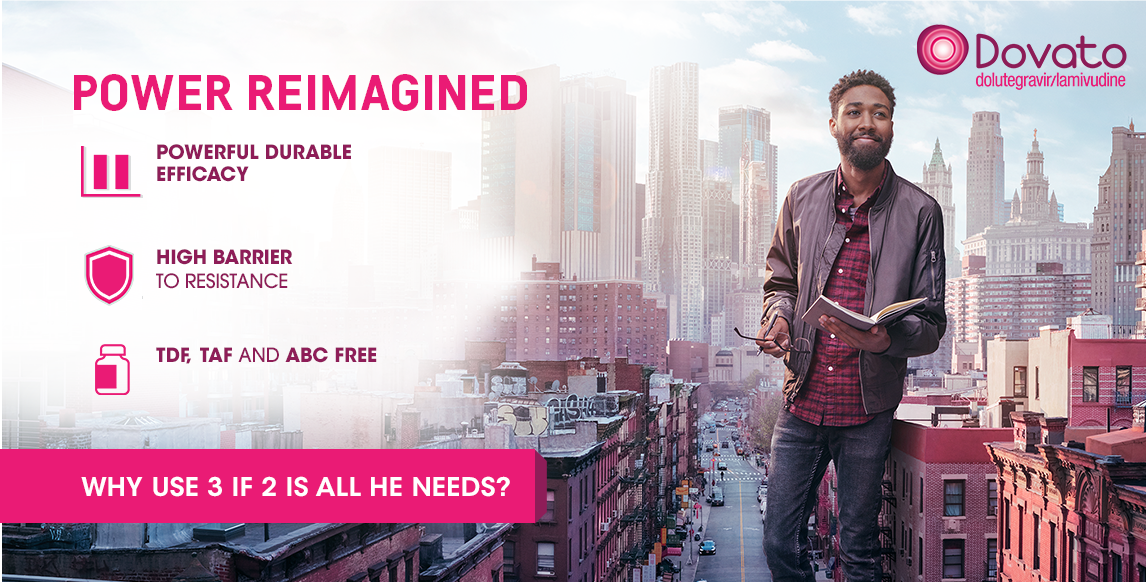 References:
Cahn P, Sierra Madero J, Arribas J, et al. Durable efficacy of dolutegravir (DTG) plus lamivudine (3TC) in antiretroviral treatment-naïve adults with HIV-1 infections: 96-week results from the GEMINI studies, Presented at: International AIDS Conference; July 21-24, 2019; Mexico City, Mexico, Slides WEAB0404LB.
Dovato Summary of Product Characteristics. Available at www.medicines.ie. Last Accessed: July 2020
Adverse events should be reported to the Health Products Regulatory Authority (HPRA) using an Adverse Reaction Report Form obtained either from the HPRA or electronically via the website at www.hpra.ie. Adverse reactions can also be reported to the HPRA by calling (01) 6764971. Adverse events should also be reported to GlaxoSmithKline on 1800 244 255.
Trade marks are owned by or licensed to the ViiV Healthcare group of companies.