Acne has a significant impact on different aspects of patients' lives

1-4
In addition to its physical effects, acne is also associated with a significant psychosocial and emotional burden. 145 This can have a detrimental impact on different aspects of patients' lives, including relationships, school, work and social functioning. 1-4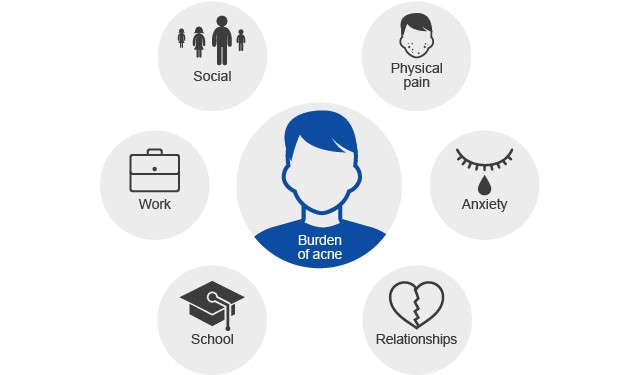 Optimal management of acne needs to take these different factors into account to determine the overall severity of the disease 6
Acne has a significant impact on patients' Quality of Life (QoL) 7

In patients with relatively severe acne, levels of social, psychological and emotional problems were equal to, if not worse, than in patients with chronic disabling asthma, epilepsy, diabetes, back pain or arthritis, despite the physical burden of acne being far lower

7

The same results were first published in Mallon et al. 1990. The graph has been independently created by GlaxoSmithKline from the original

The same results were first published in Mallon et al. 1990. The graph has been independently created by GlaxoSmithKline from the original data.

Teenagers are especially vulnerable to the impact of acne because they are in a period of physical, emotional and social development. 3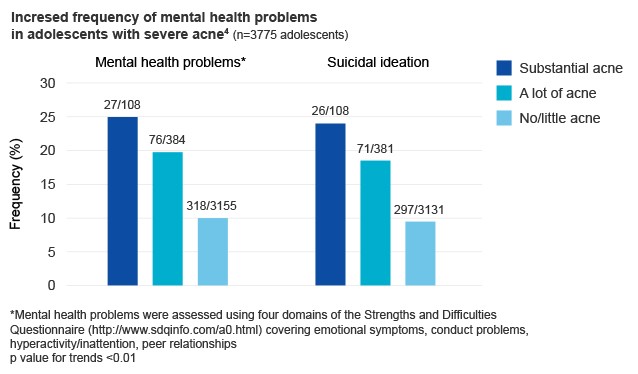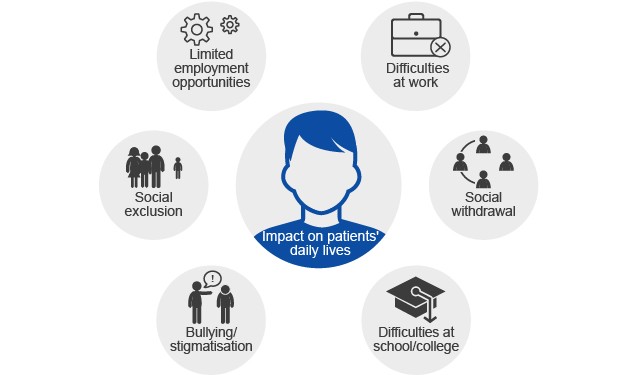 Teenagers are particularly vulnerable
Acne can affect social relationships and can lead to bullying or teasing and stigmatisation within peer groups

1

3

People with acne may feel like they don't fit in and withdraw from social situations or feel excluded

1

Families can also be affected – parents may worry about the potential consequences on their child such as bullying or scarring

3
Acne has a substantial psychosocial and social impact on a number of aspects of daily life according to its perceived severity 9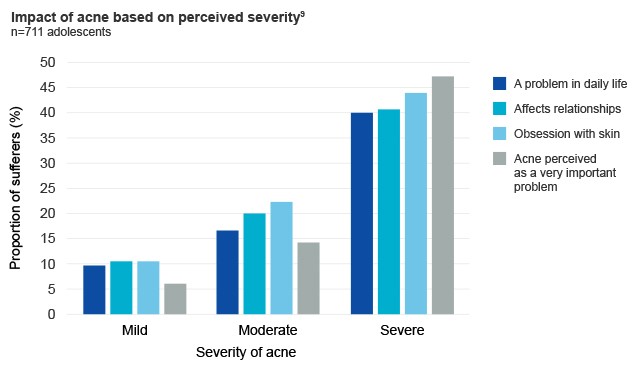 The same results were first published in Pawin et al. 2007. The graph has been independently created by GlaxoSmithKline from the original data.
Teenagers with acne can be perceived negatively 10
Evidence suggests that teenagers are not being paranoid about the negative psychosocial impact of their acne: acne has a negative effect on the way they are perceived by both adults and other teenagers. 10
The results of one study showed that teenagers with clear skin were more commonly described as being happy, intelligent, self-confident, healthy, and fun; in contrast, those with acne were more likely to be perceived as shy, stressed, unkempt, lonely, boring, nerdy, and introverted. 10
References:
Adverse events should be reported directly to the HPRA; Freepost, Pharmacovigilance Section, Health Products Regulatory Authority, Earlsfort Terrace, Dublin 2, Tel: +353 1 676 4971 medsafety@hpra.ie. Adverse events should also be reported to GlaxoSmithKline on 1800 244 255.
Duac is a registered trademark of Stiefel Laboratories Inc., a GSK company.