JULUCA – Durable Virological Suppression Up To Week 100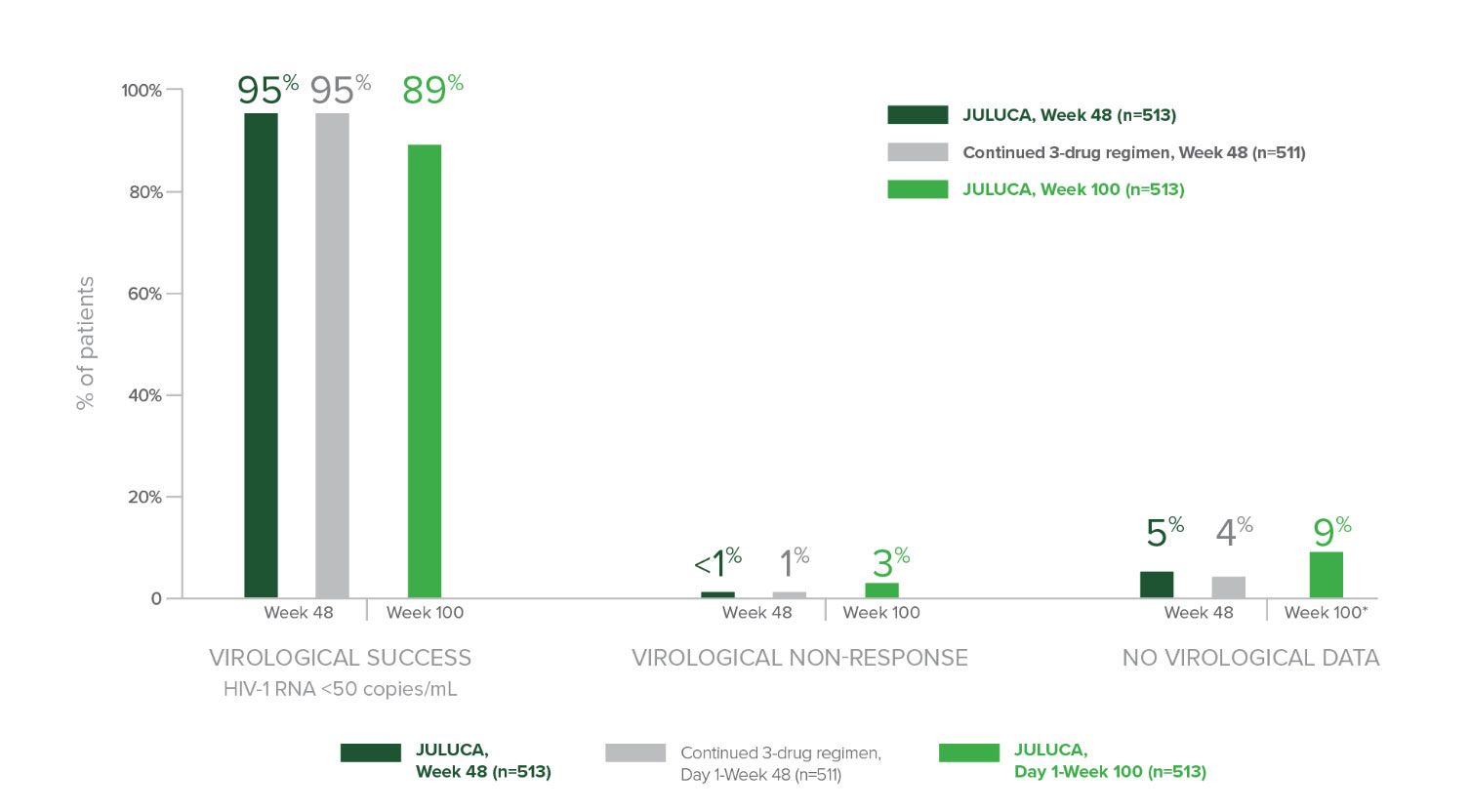 * Out to week 100, 5% discontinued due to adverse events (snapshot analysis). 1
JULUCA – High Barrier to Resistance Up to Week 100
Through Week 100, there was a low number of confirmed virological withdrawals (CVWs) across study populations (1%; 10/990)

1

CVWs with resistance-associated treatment-emergent mutations were low across both groups and detected in 3 participants, all receiving DTG + RPV (0.3%; 3/990)

1

Three participants on DTG + RPV were identified as having ≥1 NNRTI resistance-associated mutation (1 [E138E/A]; 2 [K101K/E]; 3 [K101E, E138A and M230M/L])

1

JULUCA – 2 Agents with the Tolerability You Expect

JULUCA is indicated for HIV-1 virologically suppressed adults on a stable regimen for at least 6 months with no history of virological failure and no known or suspected resistance to any NNRTI or INI.
DTG 50 mg + RPV 25 mg (bioequivalent to JULUCA) used in SWORD studies.
†Reported by 2% or more of participants in either group. 2
Adverse events should be reported directly to the HPRA; Freepost, Pharmacovigilance Section, Health Products Regulatory Authority, Earlsfort Terrace, Dublin 2, Tel: +353 1 676 4971 medsafety@hpra.ie. Adverse events should also be reported to GlaxoSmithKline on 1800 244 255.
▼ These medicinal products are subject to additional monitoring. This will allow quick identification of new safety information. Healthcare professionals are asked to report any suspected adverse reactions.

Trade marks are owned by or licensed to the ViiV Healthcare group of companies.