Urology
In these pages you can find out about our Urology portfolio, find information on BPH and download useful patient resources.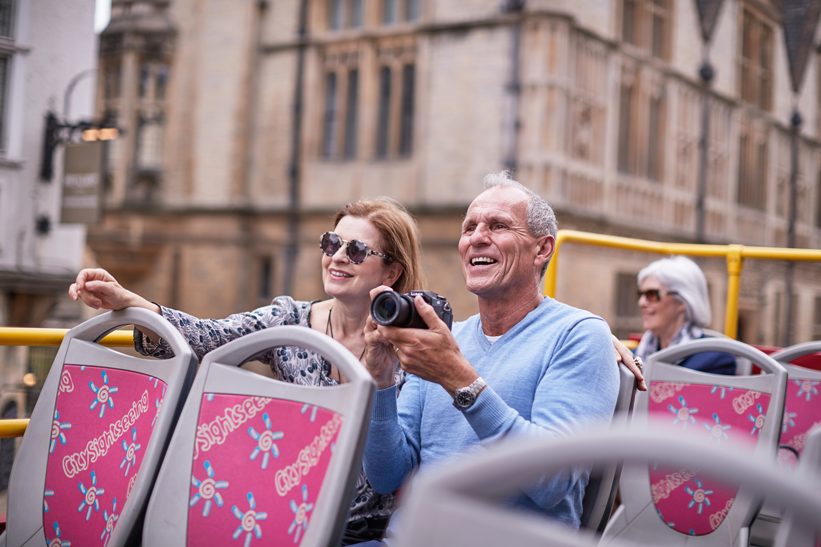 ELITE Webcast
DRUG-DISEASE MODELLING:
The impact of early vs delayed initiation of combination therapy for BPH medical management
Watch expert discussion on clinical management now.
What is BPH?

Benign Prostatic Hyperplasia (BPH) relates to the non-cancerous growth of the prostate.
As the prostate enlarges and BPH progresses, urinary frequency becomes an increasing issue and men may need to wake more often during the night. This degree of nocturia is not a natural part of aging, and seriously disrupts sleep, reducing daytime energy and negatively affecting daily activities and general well being.1
BPH can be progressive and, without treatment, the prostate continues to grow and symptoms become more severe. In some cases, this results in complete blockage of the urethra and a sudden inability to pass urine. This condition, known as acute urinary retention (AUR), is a medical emergency that is often unexpected and painful, and requires immediate catheterisation.2 3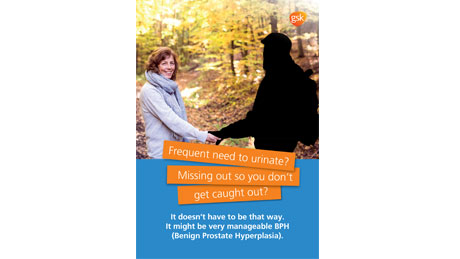 Benign Prostate Hyperplasia (BPH) Patient Information
Download explanatory leaflet for patients including: What is BPH? , What is the prostate? BPH symptoms, FAQ's and more.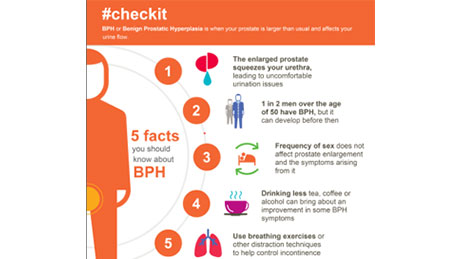 Facts about BPH Inphographic
Download infographic for patients with quick facts about BPH.

Symptoms of BPH
Clinically, patients with lower urinary tract symptoms (LUTS) due to BPH present with two types of symptoms:
Voiding:
Weak stream

Hesitancy

Intermittency

Straining
Storage:
Frequency

Nocturia

Urgency

Urge incontinence
While voiding symptoms are more common, storage symptoms are more bothersome and interfere more with daily activities. Thus they have a considerable effect on quality of life and are the main reason that patients seek medical advice.4
Diagnosis of BPH
BPH is usually diagnosed on the basis of the patient's medical history, a physical examination (including digital rectal examination [DRE]), an evaluation of LUTS severity, and the measurement of serum PSA levels.5
PSA and DRE should be investigated in accordance with the NCCP Prostate Cancer Referral Guideline.
The severity of LUTS associated with BPH is most commonly evaluated with a self administered questionnaire, such as the International Prostate Symptom Score
Progressive nature of BPH
The prostate grows slowly over time. BPH can be progressive in nature and can lead to worsening symptoms, increased adverse effect on quality of life, development of complications such as acute urinary retention (AUR) and urinary tract infections (UTIs) and need for surgical intervention.
Clinical markers for BPH progression include:5 6
Enlarged prostate size (>30cm3)

PSA > 1.4 mg/ml

Age >50 years

Severity of LUTS

References:
Adverse events should be reported directly to the HPRA; Freepost, Pharmacovigilance Section, Health Products Regulatory Authority, Earlsfort Terrace, Dublin 2, Tel: +353 1 676 4971 medsafety@hpra.ie. Adverse events should also be reported to GlaxoSmithKline on 1800 244 255.

Avodart and Combodart are registered trademarks of the GlaxoSmithKline group of companies.