Patient Adherence Program
Have your patients gotten their ORANGE CARDS yet?
In Nigeria, adherence rates fall between 25 and 33%, nearly half the global rates 1.
Evidence has also shown that adherence to medication is a key determinant of treatment outcomes. This, when improved, will enable patients get the best results from their medication, thus improving their quality of life 12.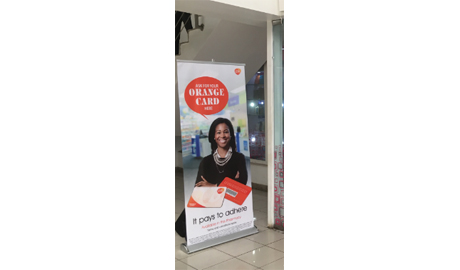 GSK has launched a programme in partnership with pharmacies to encourage patients to improve adherence to their medications. This program will improve adherence by cushioning the financial burden borne by these patients and providing pertinent information on how to take medications as prescribed.
This means that patients on Seretide or Duodart medication can get an "Orange Card" (an electronic card) at a visit to the pharmacy and become eligible for a points reward at subsequent visits. This helps patients overcome the financial obstacle, encouraging them to adhere to their medication regimen. This also equips partner pharmacists with the needed information to adequately advise their patients which creates a mutual and dynamic interaction with them.
The programme is currently in the pilot phase in partnership with a selected number of partner pharmacies with plans to expand the network to other medications and pharmacies in the coming months.
To report an Adverse Event, please contact the toll free line 0800 CALL GSK (0800 2255 475) or send an email