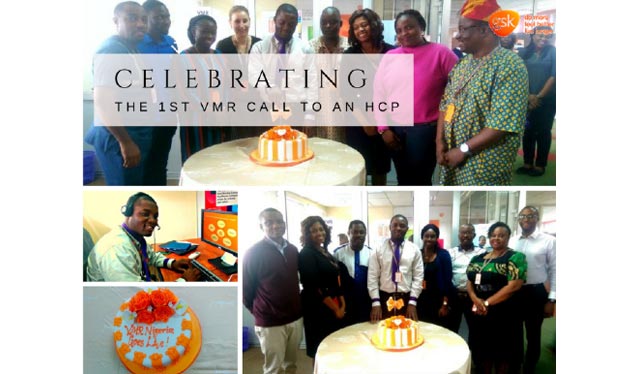 As part of efforts to increase multi-channel engagement and ensure Healthcare Professionals are reached whenever and however they want or prefer, GSK Nigeria launched the Virtual Medical Representative (VMR) Call Centre in September 2017.
The VMR Call Centre is a GSK to HCP detailing line which aims to add value to the practice of Healthcare Professionals like you, by providing up-to-date information on the go, at your convenience, regardless of where you are located.
REACHING MORE HCPS IN LESS TIME
The VMR model is strategically positioned to reach customers more efficiently, no matter where they are located, reinforcing GSK's commitment to increasing access to hard to reach areas.
INCREASING ACCESS OF HCPS TO QUALITY PRODUCTS
The VMRs provide HCPs access to the right information, much quicker and more effectively, to improve patient outcomes.
With your consent, our pharmacists will place calls to you, keeping you informed of GSK therapy areas, product information, and activities.

FAQs
What is the VMR call centre?
The VMR call centre is a GSK to HCP contact centre aimed at disseminating key information on GSK brands, and keeping you up to date with current medical trends and advances. The VMRs are based in Lagos and carry out their functions in the call centre at the GSK head office.
What if I request face to face for a video call?
The VMRs will have platforms for web to web detailing and video calls for HCPs that prefer this option.
How will the VMRs ensure that adequate information is communicated for complex brands over the phone e.g. brands with devices?
To aid effective detailing, HCPs will be sent approved emails on brands, have web to web meetings with VMRs to share slides, and have access to the HCP portal.
Is it possible to get data free HCP access to our websites?
Data free access is currently unavailable for HCPs but is an option that can be explored in the future.
Where are the target areas for the pilot phase of the project?
The target areas for the VMR Call Centre include some areas of the north and remote areas of Lagos and Ogun state, which are often hard to access and reach.
How do we ensure flexibility of VMRs to meet HCPs preferred time for detailing/communication?
VMRs will detail at the HCPs preferred time. This means they may have to resume as early as 7 am and close as late as 9 pm.
I hope the VMRs will not disturb the HCPs with frequent calls?
The calls will be at the convenience of the HCPs, which means the call will be at the best time given by the HCPs and the calls should not be more than twice a month.
Is there a provision for the HCP to withdraw consent if he is no longer interested?
Yes, if the HCP is no longer interested, he can call the GSK VMR call centre or send a mail to the VMR email.
Do the VMRs handle only outbound calls?
No, they handle both inbound and outbound calls.
To report an Adverse Event, please contact the toll free line 0800 CALL GSK (0800 2255 475) or send an email