BREO is the only once-daily ICS/LABA delivered in an easy-to-use* inhaler.
*Ease of use studied only in adults.
REQUEST SAMPLES
Ease of use ELLIPTA inhaler study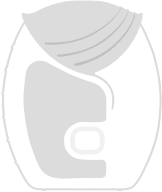 At the conclusion of a 4-week clinical study in asthma (n=250), 96% of patients with asthma demonstrated correct use and rated the ELLIPTA inhaler easy to use.
Inhalers did not contain active treatment. Inhaler image is for illustrative purposes only.
Inhalers did not contain active treatment.
Design: A 28-day, open-label, placebo study designed to assess ease of use of the ELLIPTA inhaler in adult patients with asthma (n=250), among patients using the inhaler correctly on Day 28. Correct use was evaluated using instructions derived from the prescribing information for products delivered in the ELLIPTA inhaler. At enrollment, patients were allowed up to 3 attempts to demonstrate correct use (with training between attempts 1 and 2, and 2 and 3 if necessary), and all patients were able to demonstrate correct use. On Day 28, patients were evaluated for correct use in a single attempt without additional instruction. Ninety-eight percent demonstrated correct use. "Easy to use" was defined as a rating of very easy or easy on a 4-point scale (very easy, easy, difficult, very difficult).
Features of the BREO ELLIPTA Inhaler
Breath actuated
Requires no hand-breath coordination.
Preloaded
Each inhaler contains 30 doses.
Single-step dose activation
A dose is ready when the cover is fully opened. Counter automatically keeps track of remaining doses.

Hover to see descriptions
BREO ELLIPTA Inhaler Diagram

Tap to see descriptions