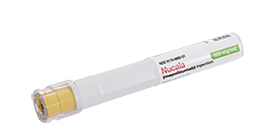 Autoinjector

The NUCALA Autoinjector and prefilled
syringe are only for use
in patients aged ≥12 years.
The only asthma biologic to offer:
Once-monthly dosing
(every 4 weeks)
+
No loading dose
+
Fixed-dose
(independent of weight)

patients found the Autoinjector very or extremely easy to use


of patients successfully used the Autoinjector

Study Description: 12-week, open-label study assessed the correct use of the NUCALA Autoinjector in patients aged ≥12 years with SEA (N=104). NUCALA was administered as one 100-mg subcutaneous injection every 4 weeks by the patient or caregiver after being trained on proper technique with the Autoinjector at baseline. Successful use was determined by investigator observation using a checklist of steps based on Instructions for Use and visually inspecting the Autoinjector following the third dose. Ease of use was measured at study end on a 5-point scale (not at all, a little, moderately, very, and extremely) in the 102 patients with successful use.
Administering NUCALA At Home: Severe Asthma

Autoinjector Quick Reference Guide

This guide is designed for patients and does not replace the full Instructions for Use.

Please see the full Instructions for Use to provide proper training in subcutaneous injection technique and on the preparation and administration of NUCALA injection.

Click each tab for step-by-step directions on How to Inject with the NUCALA Autoinjector.
Make sure the security seals on the carton are not broken. Carefully take Autoinjector out of box. Keep out of direct sunlight. Do not use if left out for more than 8 hours.

Inspect and allow to reach room temperature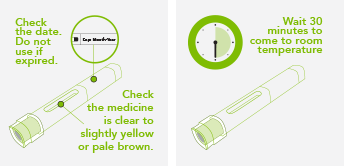 Do not use if the medication is cloudy, discolored, or has particles. A few air bubbles are normal.
Do not remove clear needle cap at this time.
Do not warm in microwave, hot water, or sunlight.
Choose your injection site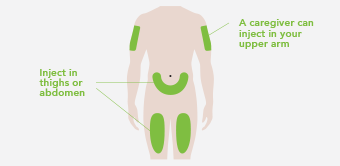 NUCALA is injected under the skin.
Do not inject where skin is bruised, tender, red, or hard.
Do not inject within 2 inches of your belly button.

If you need more than 1 injection to complete your dose, leave at least 2 inches between injection sites.
Wash your hands and clean your injection site with an alcohol swab.

Pull the clear needle cap straight off and do not press the yellow needle guard with your fingers. It's normal to see a drop of medicine at the end of the needle. Inject within 5 minutes.
Hold the yellow needle guard FLAT against your skin and push the Autoinjector all the way down and hold.
Listen for the first click, injection has started.

Yellow indicator will move through inspection window.
Do not lift away from skin.

Continue to hold down in place until injection is completed.
2 ways to know you've completed:
1. You have heard the 2nd click and counted to 5.
2. A yellow indicator has filled the inspection window.
Injection may take up to 15 seconds.
Do not put the clear needle cap back on.
Throw away your used Autoinjector in an approved sharps disposal container right after injecting.

Watch these videos for instructions for administering NUCALA with a single-use Autoinjector or prefilled syringe.

Keep NUCALA and all medicines away from children.
WARNINGS
Do not use any Autoinjector or prefilled syringe more than 1 time.

Do not share the Autoinjector or prefilled syringe with other people.
Do not use the Autoinjector or prefilled syringe if it was dropped or looks damaged.

STORAGE INFORMATION
Store in the refrigerator between 36°F to 46°F (2°C to 8°C)

Keep in the original carton until time of use to protect from light

Do not freeze
Do not shake

Keep away from heat

If necessary, an unopened carton can be stored outside the refrigerator at up to 86°F (30°C) for up to 7 days

Do not use the Autoinjector or prefilled syringe if it has been left out of the carton for more than 8 hours