The only asthma biologic to offer:
Once-monthly dosing
(every 4 weeks)
+
No loading dose
+
Fixed-dose
(independent of weight)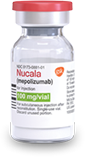 Administering NUCALA In Office: Severe Asthma

Patients aged 6 to 11 years
Recommended dose is 40 mg
Administer 0.4 mL of the reconstituted solution
Recommended dose is 100 mg
Administer 1 mL of the reconstituted solution
Learn more about use in pediatric patients (aged 6-11 years)
NUCALA should be reconstituted by a healthcare professional. The reconstituted solution will contain a concentration of 100 mg/mL mepolizumab. Do not mix with other medications.
Ensure you have everything you need to reconstitute NUCALA:
1 vial of NUCALA

Sterile water (1.2 mL) for Injection, USP



A syringe (preferably 2 to 3 mL)

A needle (preferably 21 gauge)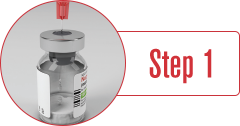 Withdraw 1.2 mL of Sterile Water for Injection into the syringe.
Direct the stream of Sterile Water for Injection vertically onto the center of the lyophilized cake.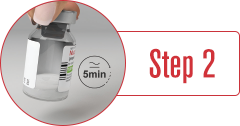 Gently swirl the vial for 10 seconds with circular motion at 15-second intervals until the powder is dissolved.*
DO NOT SHAKE the reconstituted solution during the procedure because this may lead to product foaming or precipitation.
INSPECT the reconstituted solution. If particulate matter remains in the solution or if it appears cloudy or milky, the solution must not be administered.†
Manual reconstitution is typically complete ~5 minutes after the water
has been added.
*

If a mechanical reconstitution device (swirler) is used to reconstitute NUCALA, swirl at 450 rpm for no longer than 10 minutes. Alternatively, swirling at 1000 rpm for no longer than 5 minutes is acceptable.

†

The solution should be clear to opalescent, and colorless to pale yellow or pale brown, essentially particle free. Small air bubbles, however, are expected and acceptable.

If the reconstituted solution is not used immediately:
Store below 30°C (86°F)

Does not require refrigeration

if stored below 30°C (86°F)

Do not freeze


Discard if not used within 8 hours of reconstitution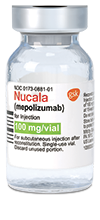 If the reconstituted solution is not used immediately:
Store below 30°C (86°F)

Does not require refrigeration

if stored below 30°C (86°F)

Do not freeze




Discard if not used within 8 hours of reconstitution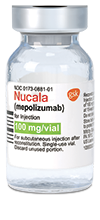 Manual and mechanical
reconstitution instructions for NUCALA