TRELEGY is
now approved for adult asthma patients

aged 18 and older.

TRELEGY is NOT indicated for relief of acute bronchospasm.
The first and only once-daily triple therapy in a single inhaler for adult patients with asthma.

Available in two strengths for adult patients with asthma: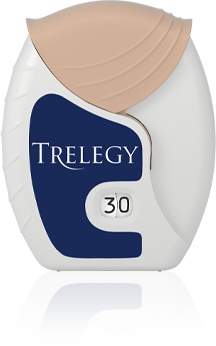 TRELEGY
100/62.5/25 mcg
AND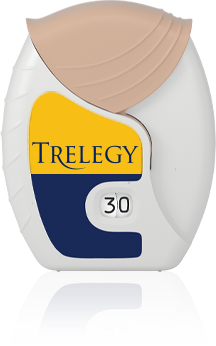 TRELEGY
200/62.5/25 mcg
TRELEGY—SIGNIFICANT lung function improvement for patients with ASTHMA
FOR ADULT PATIENTS WITH ASTHMA
In a 24- to 52-week study vs BREO, an ICS/LABA 1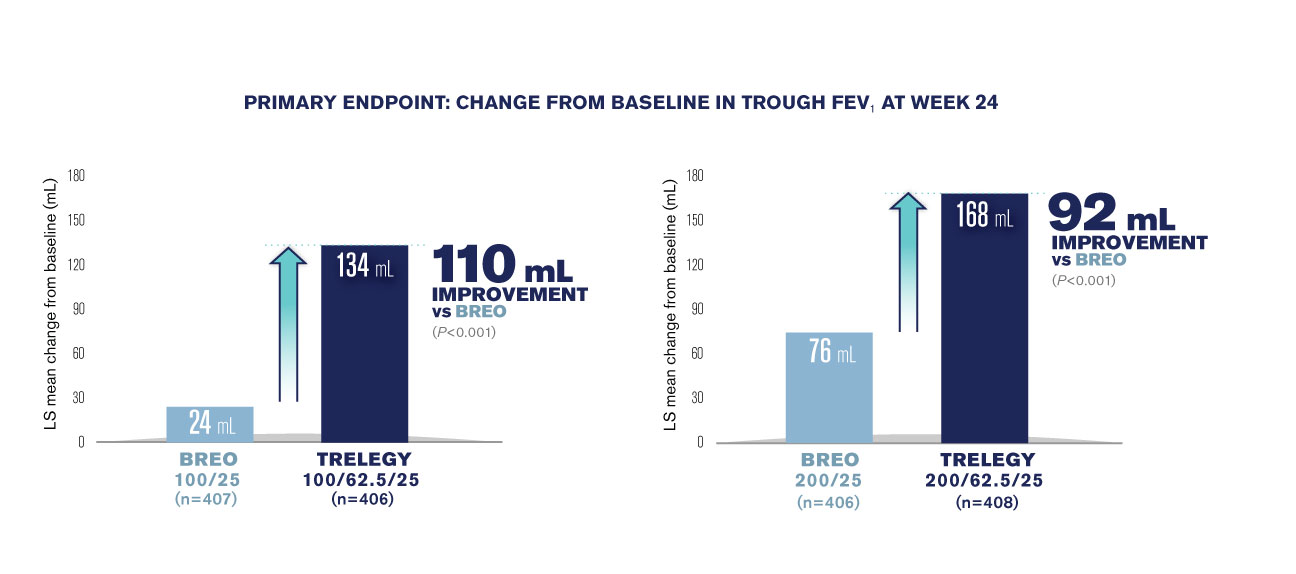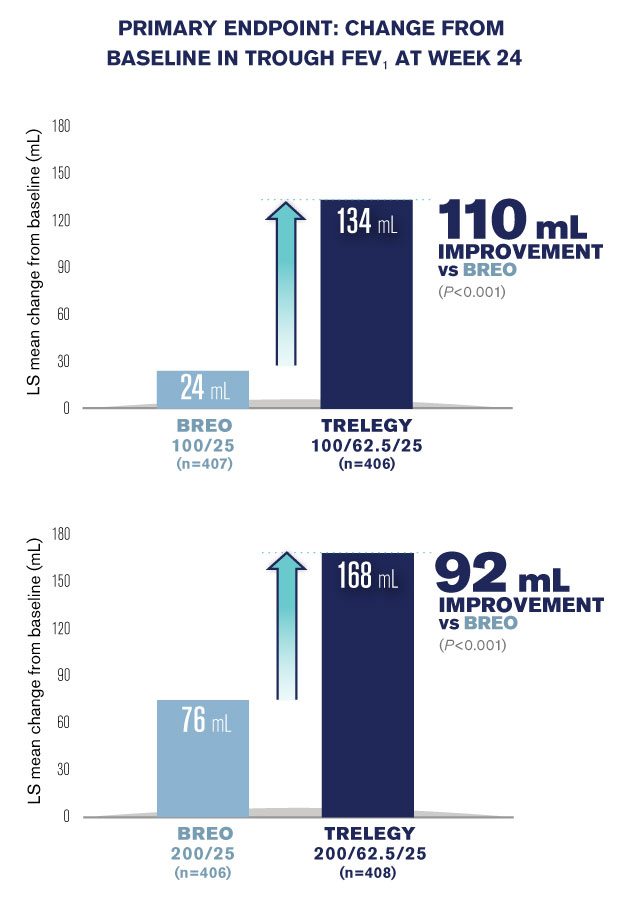 CAPTAIN STUDY DESCRIPTION 1
Design:
24- to 52-week, randomized, double-blind, active-controlled, parallel-group, multicenter study that evaluated the safety and efficacy of TRELEGY 100/62.5/25 and TRELEGY 200/62.5/25 compared with BREO 100/25 and BREO 200/25, respectively (each administered once daily in the morning).
Patients:
Patients ≥18 years were eligible if they had inadequately controlled asthma (ACQ-6 score ≥1.5) while receiving daily ICS/LABA (ICS dose >250 mcg FP or equivalent) for ≥12 weeks pre-study. After a 5-week run-in and stabilization period, 2436 patients were randomized to treatment (mean age 53 years, baseline mean percent predicted FEV
1
68%).
ACQ-6=Asthma Control Questionnaire 6; COPD=chronic obstructive pulmonary disease; FEV 1=forced expiratory volume in 1 second; FP=fluticasone propionate; ICS=inhaled corticosteroid; LABA=long-acting beta 2-adrenergic agonist; LAMA=long-acting muscarinic antagonist; LS=least squares.
More information about TRELEGY
SAVINGS
Eligible commercially insured patients may pay as little as $0 for up to 12 months*
See savings offer
Maximum savings $2400/year. Restrictions apply.
ORDER SAMPLES
Request samples for your practice
Request samples
*Subject to eligibility. Restrictions apply. Maximum savings from annual offer will not exceed $2400 per year for patient's out-of-pocket cost (the amount paid after insurance deductions, if any). Any remaining out-of-pocket cost is at the patient's expense. Eligible patients who are without insurance and fully responsible for the cost of their prescriptions will receive $100 applied to their out-of-pocket cost.
View Full Requirements and Restrictions
Who is eligible to receive the Savings Program Offer for TRELEGY?
ELIGIBILITY
Patients may be eligible for this offer if they have commercial insurance and insurance does not cover the full cost of the prescription, or if they are not insured and are responsible for the cost of their prescriptions. Government beneficiaries; patients who are enrolled in any federal healthcare program, including patients enrolled in Medicare (Part D or otherwise), Medicaid, Medigap, Veterans Affairs (VA) or Department of Defense (DOD) programs, or TRICARE; patients who are Medicare eligible and enrolled in an employer-sponsored group waiver health plan or government prescription drug benefit program for retirees; or patients enrolled in any similar federal or state programs, including state pharmaceutical assistance programs, are NOT eligible for this offer. Further, patients CANNOT use this coupon if they are Medicare eligible. For coupon eligibility purposes, all those 65 or older will be considered Medicare eligible. If patients are government beneficiaries or Medicare eligible, they may not use this savings offer even if they elect to be processed as an uninsured (cash-paying) patient. This offer is not health insurance and is restricted to residents of the United States, Puerto Rico, and US territories. Void where prohibited by law, taxed, or restricted. Not valid in Massachusetts or California if an AB-rated generic drug is available for the product.
TERMS OF USE
Eligible commercially insured/covered patients with no restrictions (step-edit, prior authorization, or NDC block) and with a valid prescription for TRELEGY ELLIPTA (fluticasone furoate, umeclidinium, and vilanterol inhalation powder) who present this savings card at participating pharmacies will pay as little as $0 for each covered 30-, 60-, or 90-day supply (1-3 inhalers) of TRELEGY. Maximum savings from annual offer will not exceed $2400 per year for patient's out-of-pocket cost (the amount paid after insurance deductions, if any). If you pay cash for your prescription, or are insured and your insurance does not cover or has a managed care restriction (step-edit, prior authorization, or NDC block), and are not a government beneficiary or Medicare eligible, you will receive up to $100 in savings on your out-of-pocket costs for each 30-day supply. This offer is valid for up to 12 uses, and each 30-day supply counts as 1 use. Other restrictions may apply. Patient is responsible for applicable taxes, if any. This offer is limited to 1 per person and is nontransferable and cannot be combined with any other coupon, free trial, or similar offer. No substitutions are permitted. Patients, pharmacists, and prescribers cannot seek reimbursement from health insurance or any third party for any part of the amount received by the patient through this offer. Offer must be presented along with a valid prescription for TRELEGY at the time of purchase. Your acceptance of this offer must be consistent with the terms of any drug benefit plan provided to you by your health insurer. You agree to report your use of this coupon to your health insurer if required.
GSK or McKesson (on GSK's behalf) reserves the right to rescind, revoke, or amend this offer at any time without notice. This offer may not be sold, purchased, traded, or counterfeited. Duplicates of this uniquely coded offer are invalid and not redeemable at the pharmacy. This offer is not conditioned on any past, present, or future purchase, including refills. This offer expires on 12/31/2020.