Safety
Adverse reactions
In the Phase IIb to IIIb clinical trials the most frequently reported adverse reactions considered possibly or probably related to dolutegravir and abacavir/lamivudine [pooled data from 679 anti-retroviral naïve subjects receiving this combination] were nausea (12%), insomnia (7%), dizziness (6%) and headache (6%). 1
Below you can find a summary of the very common (≥ 1/10) and common (≥1/100 to <1/10) adverse reactions considered at least possibly related to treatment with the components of TRIUMEQ from both clinical study and post-marketing experience. 1
*Read about hypersensitivity reactions and HLA-B*5701 screening below.
aThis adverse reaction was identified from clinical studies or post-marketing experience for dolutegravir, abacavir or lamivudine when used with other antiretrovirals or post-marketing experience with Triumeq. 1

HLA-B

*

5701 screening and hypersensitivity reactions
Before initiating treatment with abacavir-containing products, like TRIUMEQ, screening for carriage of the HLA-B*5701 allele should be performed in any HIV-infected patient. Abacavir should not be used in patients known to carry the HLA-B*5701 allele. 1
Prospective HLA-B*5701 screening: No immunologically confirmed hypersensitivity reaction (HSR) and significant reduction of clinically suspected HSR in the PREDICT-1 study. 2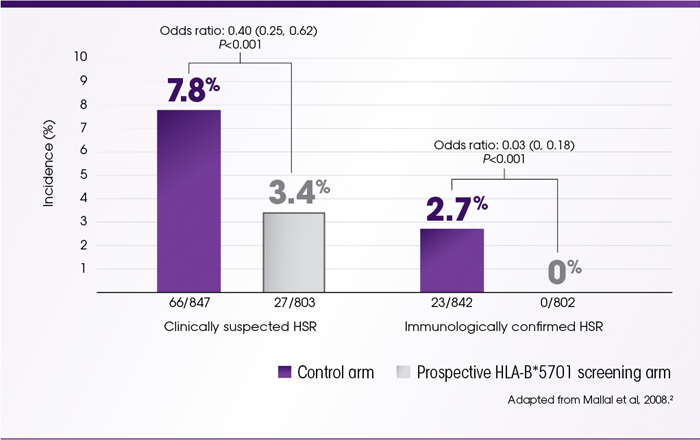 HLA-B*5701 screening significantly reduces the risk of an ABC hypersensitivity reaction. 2
Clinical description of ABC HSRs: 1
Almost all patients developing ABC HSRs will have fever and/or rash.

Other key symptoms include: gastrointestinal, respiratory, or constitutional symptoms such as lethargy and malaise.



If suspected: 1
TRIUMEQ must be stopped without delay, even in the absence of the HLA-B

*

5701 allele.

After stopping treatment with TRIUMEQ for a suspected HSR, TRIUMEQ or any other medicinal product containing ABC or DTG, must never be re-initiated.

For more information on HLA-B*5701 screening and hypersensitivity reactions, please see:
TRIUMEQ Summary of product Characteristics.

Pregnancy
Women of childbearing potential (WOCBP) should be counselled about the potential risk of neural tube defects with dolutegravir (a component of Triumeq), including consideration of effective contraceptive measures. Human experience from a birth outcome surveillance study in Botswana shows a small increase of neural tube defects; 7 cases in 3,591 deliveries (0.19%; 95% CI 0.09%, 0.40%) to mothers taking dolutegravir-containing regimens at the time of conception compared to 21 cases in 19,361 deliveries (0.11%: 95% CI 0.07%, 0.17%) to women exposed to non-dolutegravir regimens at the time of conception.
If a woman plans pregnancy, the benefits and the risks of continuing treatment with Triumeq should be discussed with the patient. 1
Drug-drug interactions
TRIUMEQ has few clinically significant drug-drug interactions. 1
Co-administration with medicinal products with narrow therapeutic windows, that are substrates of organic cation transporter (OCT) 2, including but not limited to fampridine (also known as dalfampridine) is contraindicated.

1

Since the recommended dose of dolutegravir is 50 mg twice daily when co-administered with etravirine (without boosted protease inhibitors), efavirenz, nevirapine, rifampicin, tipranavir/ritonavir, carbamazepine, phenytoin, phenobarbital and St. John's wort, TRIUMEQ is not recommended for patients taking these drugs.

1

TRIUMEQ can be co-administered with etravirine only if a boosted protease inhibitor (atazanavir/r, lopinavir/r or darunavir/r) is also administered.

1
For a more comprehensive list of interactions, please see the HIV DDI database of University of Liverpool.
For further information on Triumeq safety, please see the Summary of Product Characteristics.
TRIUMEQ trademark is owned by or licensed to the ViiV Healthcare group of companies.