Seretide
Indicado para tratamento regular da asma (doença obstrutiva reversível das vias respiratórias) e manutenção da DPOC, inclusive bronquite crônica e enfisema.
1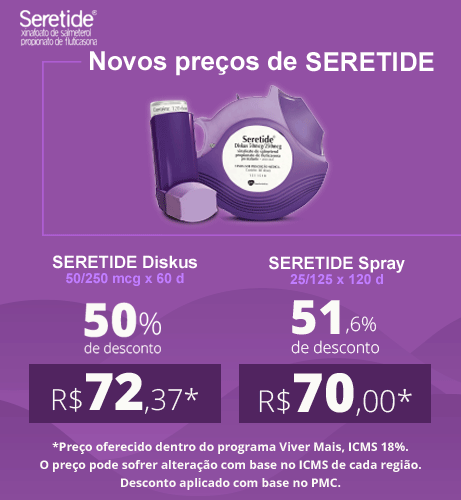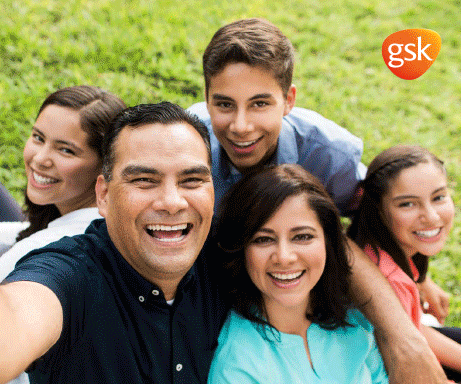 Eficácia e segurança podem andar juntas! O ICS de Seretide (Propionato de fluticasona) proporciona perfil de segurança estabelecido com doses menores e menores chances de efeito sistêmico vs budesonida e beclometasona.

2
Benefícios da terapia de manutenção da asma para seu paciente.
Informações importantes, confira aqui!
A execução correta de técnica inalatória é fundamental para o efeito desejado do tratamento.
Assista aos vídeos de manejo dos dispositivos!

3

BARNES, N. Relative safety and efficacy of inhaled corticosteroids. J Allergy Clin Immunol, 101(4 Pt 2): S460-S4, 1998.
Khassawneh BY. Handling of Inhaler Devices in Actual Pulmonary Practice: Metered-Dose Inhaler Versus Dry Powder Inhalers Respiratory Care;2008;53;324-328.
KELLY, HW. Establishing a therapeutic index for the inhaled corticosteroids: Part 1. Pharmacokinect/pharmacodynamics comparison of the inhaled cortiticosteroids. J Allergy Clin Immunol, 102(4 pt 2): S36-51, 1998.
DALEY,-YATES, PT, et al. Inhaled corticosteroids: potency, dose equivalence and therapeutic index. Br J Clin Pharmacol, 80(3): 372-80, 2015.
PM-BR-FPS-WCNT-200006 – Novembro/2020