Why phenotype in severe asthma?
Phenotyping in the clinic
Asthma phenotyping is an evolving area of research, and a general consensus of what defines each phenotype has still to be developed. Phenotyping should evolve into endotyping, which links to clinical features with identifiable molecular pathways. 1
Ultimately, the evolution occurring in patient phenotyping is set to optimise therapy by enabling targeted and personalised biomarker-driven treatment for severe asthma. 1 2
Using biomarkers to establish phenotypes for treatment

Phenotyping methods
Current understanding of phenotypes in asthma
In severe asthma, identification of phenotypes has commonly been approached in two ways:3
Using existing definitions of a phenotype based on clinical characteristics of subjects
Analysing pathobiologic differences in sputum or bronchoscopy specimens

Both of these approaches have been used to further clarify severe asthma phenotypes, via a method known as 'cluster analysis'. 4
What is cluster analysis?
Cluster analysis is a multivariate mathematical method. It uses specific variables to quantify the similarity between individuals and group them into clusters.5
Cluster analysis is an evolving area in the asthma field. Individual studies have already described a number of phenotypes, which significant overlap with already established phenotypes such as late-onset eosinophilic and early-onset allergic asthma.2 5-6
Theoretical grouping of asthma phenotypes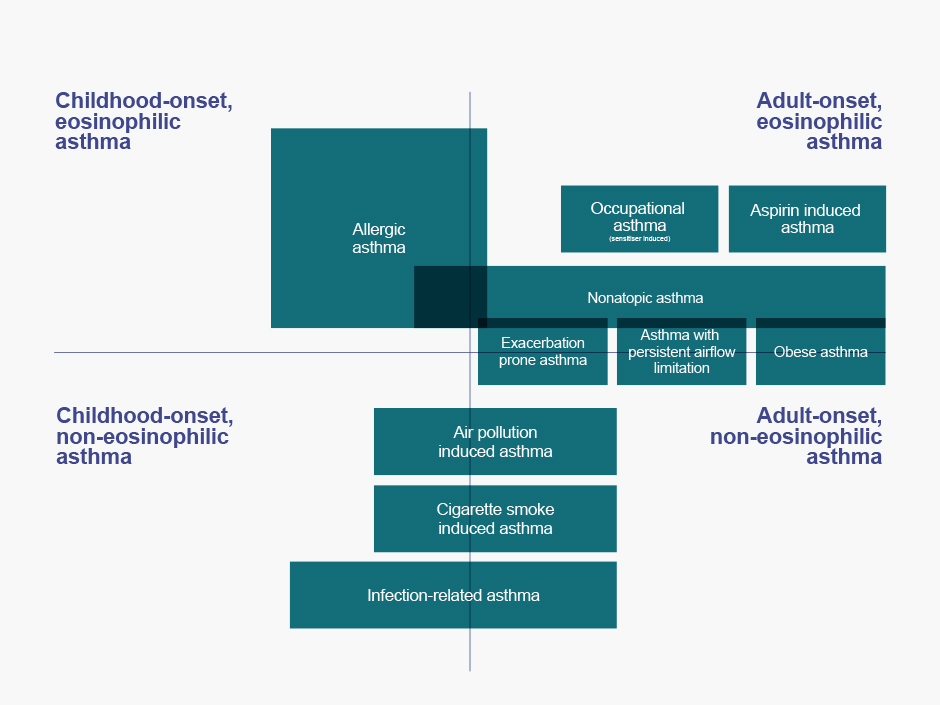 Schematic showing adult patients, divided by period of onset and by eosinophilic versus non-eosinophilic airway inflammation.
Adapted from Hekking and Bel, 2014. 6
Despite overlap, the approaches used to date have not yet led to a definitive suite of asthma phenotypes.2 5-6The studies published to date have shown differences and similarities across the phenotypes identified, likely due to demographic and clinical differences in the populations studied and variations in statistical methods. 2The cluster analysis process is inherently biased, because variables must be selected by the triallists and as studied populations are limited to those recruited based on the overarching study criteria. Some studies, for example, did not include typical lung function measures, whilst others did not include inflammatory markers. 25However, these differences support the concept of disease heterogeneity in asthma and suggest differences in pathophysiologic mechanisms between the clusters, leaving room for evolution into endotyping. 1 2 5-6
The studies described below are examples of cluster analyses that have identified particular asthma phenotypes.