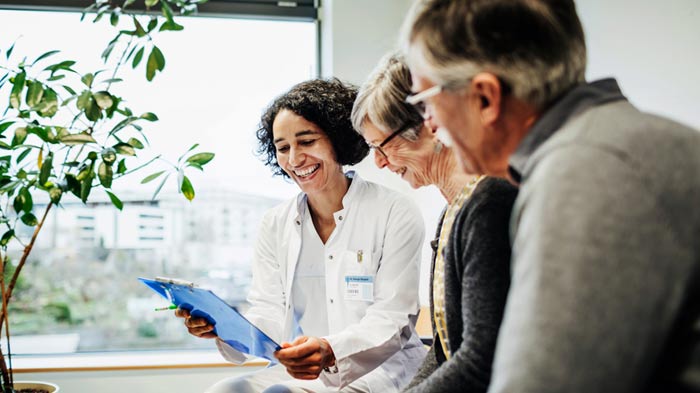 Product Update
IMIGRAN (sumatriptan 6mg/0.5mL injection) will be fully funded from 1 April 2020 in New Zealand

View our products
Find comprehensive information on our products including resources for patients.
Expert perspectives
By sharing our knowledge, we hope we can ultimately improve the lives of patients. To do that we've developed the GSK Portal so healthcare professionals can have easy access to all our resources, tools, advice, opinion and news.
Imigran (sumatriptan) is available as a 6mg/0.5mL solution for injection. Imigran injection is a fully funded medicine. Prescription Medicine for the treatment of migraine attacks and cluster headaches in adults aged 18 years or over. Contraindications: Hypersensitivity to Imigran; history of myocardial infarction, ischaemic heart disease, unstable angina, uncontrolled hypertension, stroke or severe hepatic impairment. Should not be used with current or recent use of MAOIs. Precautions: Use only in clear diagnosis of migraine or cluster headache. May be unsuitable for postmenopausal women, males over 40, patients with risk factors for coronary artery disease. Caution in patients with controlled hypertension, impaired liver or kidney function, epilepsy or structural brain lesions, or allergy to sulphonamides. See Data Sheet for washout between Imigran and ergotamine use. Use with caution in patients requiring SSRI treatment and only if clinically warranted. Adverse events: flushing, heaviness, sensory disturbance, transient increase in blood pressure, dyspnoea, pressure or tightness in any part of the body, including the chest or throat; dizziness, fatigue, drowsiness, nausea and vomiting, unusually slow or fast heart beats, short-lived rises in blood pressure, palpitations and pain at the site of injection have also been reported. Rarely, minor disturbances in LFTs, visual disturbances and seizures. Allergic reactions can occur.
Before prescribing Imigran, please refer to the datasheet for information on dosage, contraindications, precautions interactions and adverse effects. The datasheet is on the Medsafe website at www.medsafe.govt.nz. Imigran is a registered trade mark of the GlaxoSmithKline group of companies. Marketed by GlaxoSmithKline NZ Limited, Auckland.
Adverse events involving GlaxoSmithKline products should be reported to GSK Medical Information on 0800 808 500.