Ellipta inhaler
How to use Ellipta inhaler video
Watch our short video on how to use the Ellipta inhaler.
Note: The Ellipta demonstration inhaler should be replaced once the dose counter reaches zero.
To order a Demonstration Ellipta Inhaler click below
IMPORTANT: The demonstration Ellipta inhaler is intended for demonstrating how to use the Ellipta Inhaler for patients not for patient use. Patients should not put the demonstration inhaler in their mouth.
How to use the Ellipta inhaler
These instructions are designed to help show your patients how to use the Ellipta inhaler.
Only open the package when you are ready to begin using your inhaler. Once you tear open the foil you should use your Ellipta inhaler within 6 weeks.
The "Discard by" date should be written on the inhaler label in the space provided. The "Discard by" date is 6 weeks from the date of opening the tray. After this date the inhaler should no longer be used. The tray can be discarded after first opening. The printer friendly version above includes a space for patients to write down this information.
Getting Started
Before your patient starts using their active inhaler, you should consider the following:
The Ellipta demonstration inhaler is packaged in a tray containing a dessicant gel sachet, which should be thrown away with the other packaging.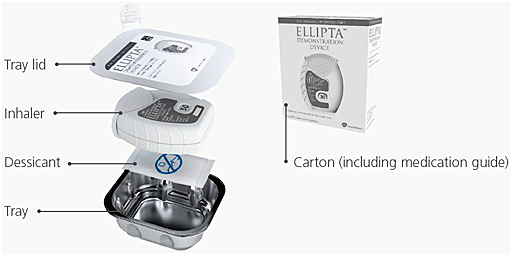 When it is taken out of the tray, the inhaler will be in the 'closed' position (the cover will be shut). It is ready to use straight from the packaging, so there is no need to prepare it for use in any special way.
IMPORTANT: If your patient opens and closes the cover of their inhaler without inhaling the medicine, the dose will be lost. Your patient should be ready to take the medicine before opening the cover.
Top tips for your patients
It may not be possible to taste or feel the medicine, even when using the inhaler correctly

Do not shake the inhaler, block the air vents with your fingers, or breathe out into the inhaler

The dose counter will count down by one unit at a time. If the dose counter does not count down when you hear the 'click', the inhaler will not deliver the required dose. If this happens, your patient should take the inhaler back to the pharmacy.

It is not necessary to clean the mouthpiece. If you chose to do so, always use a dry tissue.
Adverse events should be reported directly to the Health Products Regulatory Authority (HPRA) on their website: www.hpra.ie. Adverse events should also be reported to GlaxoSmithKline on 1800 244 255.

Ellipta is a registered trademark of the GlaxoSmithKline Group of Companies