Transform lives with Nucala by exacerbation reduction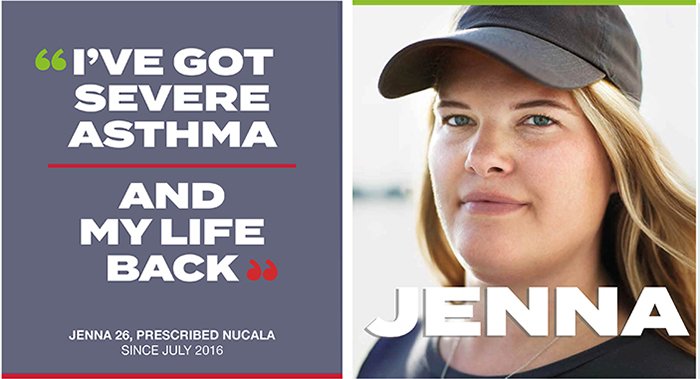 Nucala could allow patients with severe asthma to get their lives back through protection that lasts.1-4
Please see Professor Peter Howarth provide a talk in: Biologic treatment in severe eosinophilic asthma: what matters most for patients?
Help for patients
Useful tips for your adult patients who are receiving Nucala treatment.
References:
Ortega HG et al. N Engl J Med 2014; 371:1198–1207.

Chupp GL et al. Lancet Respir Med 2017; 5:390–400.

Ortega HG et al. Lancet Respir Med 2016; 4:549–556.

Khatri et al. J Allergy Clin Immunol 2019; 143(5):1742-1751.

Nucala SmPC 2019. Available at www.medicines.ie Last accessed July 2019.
▼This medicinal product is subject to additional monitoring. This will allow quick identification of new safety information. Healthcare professionals are asked to report any suspected adverse reactions.
Adverse events should be reported to the Health Products Regulatory Authority (HPRA) using an Adverse Reaction Report Form obtained either from the HPRA or electronically via the website at www.hpra.ie. Adverse events can also be reported to the HPRA by calling: (01) 6764971. Adverse events should also be reported to GlaxoSmithKline on 1800 244 255.
Copyright © 2019 GlaxoSmithKline Group of Companies. All rights reserved.
Nucala is a registered trademark of the GlaxoSmithKline Group of Companies.