With over 40 ways to construct a triple therapy in 2019, we recognise the complexity that you face in your practice. That is why we have developed a portfolio of evidence-based medicines, all delivered in the same easy-to-use device. 1
To find out how the Ellipta portfolio can help your patients, explore the products below:
Trelegy▼ Ellipta (fluticasone furoate / umeclidinium / vilanterol)
COPD
Trelegy Ellipta is indicated as a maintenance treatment in adult patients with moderate to severe COPD who are not adequately treated by a combination of an inhaled corticosteroid (ICS) and a long-acting β2-agonist (LABA) or a combination of a long-acting muscarinic antagonist (LAMA) and a long-acting β2-agonist (LABA). 2
Relvar Ellipta (fluticasone furoate/vilanterol inhalation powder)

Asthma
Relvar Ellipta (92 micrograms/22 micrograms inhalation powder and 184 micrograms/22 micrograms inhalation powder) is indicated for the regular treatment of asthma in adults and adolescents aged 12 years and older where use of a combination medicinal product (long-acting beta2-agonist and inhaled corticosteroid) is appropriate: patients not adequately controlled with inhaled corticosteroids and 'as needed' inhaled short acting beta2-agonists; patients already adequately controlled on both inhaled corticosteroid and long-acting beta2-agonist. 4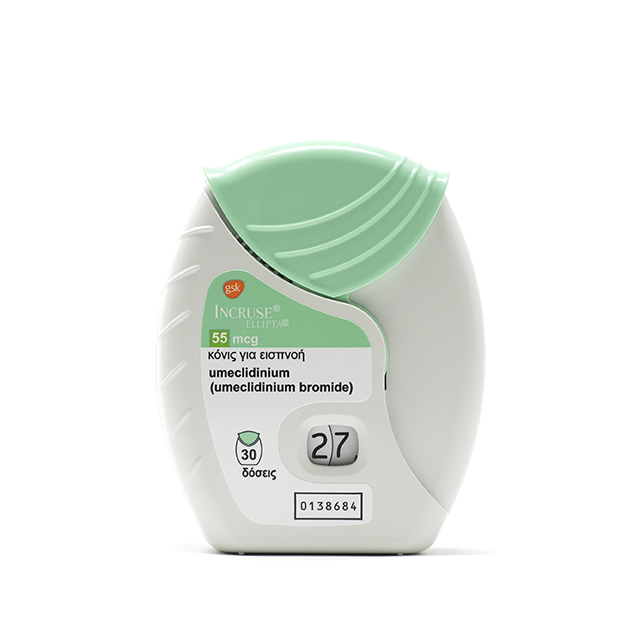 Other products in our Respiratory portfolio
Adverse events should be reported. Reporting forms and information can be found at https://yellowcard.mhra.gov.uk/ or search for MHRA Yellowcard in the Google Play or Apple App store. Adverse events should also be reported to GlaxoSmithKline on 0800 221 441.
Anoro, Incruse, Relvar, Trelegy and Ellipta are registered trademarks of the GlaxoSmithKline group of companies