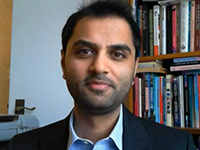 Dr Pujan Patel
Respiratory Consultant, The Royal Brompton, London
Dr Pujan Patel is a Consultant in Respiratory Medicine with expertise in Severe Asthma management at the Royal Brompton Hospital.
Having completed fellowships in both Respiratory and Critical Care Medicine in the United States, he joined the Brompton's Severe Asthma service in managing the UK's largest cohort of severe asthmatics on asthma biologic therapies. He is responsible for the assessment of new tertiary referrals to the service and conducts weekly biologic MDTs to identify suitable biologic candidates.
He serves on various subgroup committees for the British Thoracic Society (BTS) and American Thoracic Society (ATS) and continues to engage in medical education and teaching.