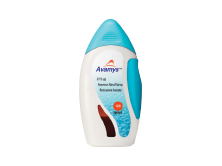 Avamys nasal spray
Avamys nasal spray is indicated for the treatment of the symptoms of allergic rhinitis in adults, adolescents and children (aged 6 and over).1
References:
Avamys Summary of product Characteristics Available from www.medicines.ie (https://www.medicines.ie/medicines/avamys-27-5-micrograms-spray-nasal-spray-suspension-31374/) last accessed April 2019

Brozek J, Bousquet J, Agache I, et al. Allergic Rhinitis and its Impact on Asthma (ARIA) guidelines-2016 revision. J Allergy Clin Immunol. 2017;140(4):950-958.

Seidman M, Gurgel RK, Lin SY, et al. Clinical Practice Guideline: Allergic Rhinitis. Otolaryngol Head Neck Surg. 2015:152(18) S1-S43.

Scadding GK, Kariyawasam HH, Scadding G, et al. BSACI guideline for the diagnosis and management of allergic and non-allergic rhinitis. Clin Exp Allergy. 2017;47:856-889.

Wallace DV, Dykewicz MS, Oppenheimer J, et al. Pharmacologic Treatment of Seasonal Allergic Rhinitis: Synopsis of Guidance from the 2017 Joint Task Force on Practice Parameters. Ann Intern Med. 2017;167(12):876-881.

Santos A, Borrego LM, Rotiroti G, et al. The need for patient-focused therapy for children and teenagers with allergic rhinitis: a case-based review of current European practice. Clin Transl Allergy. 2015;5:2.
Adverse events should be reported directly to the HPRA; Freepost, Pharmacovigilance Section, Health Products Regulatory Authority, Earlsfort Terrace, Dublin 2, Tel: +353 1 676 4971 medsafety@hpra.ie. Adverse events should also be reported to GlaxoSmithKline on 1800 244 255.
Avamys is a registered trademark of the GlaxoSmithKline group of companies