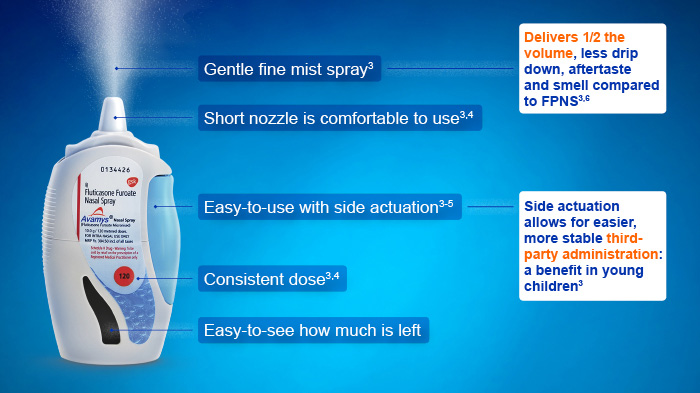 Watch a video comparison of Avamys spray viscosity versus 2 competitor INS's devices
How to use Avamys device video
A step by step guide to preparation and use of the Avamys nasal spray device.
Avamys is preferred over MFNS* 7 8

Several perceived sensory attributes of FFNS were rated significantly superior to MFNS

7

FFNS may contribute to enhanced treatment outcomes in AR patients due to improved treatment adherence

7
Overall, significantly more patients preferred FFNS over MFNS, p<0.001 8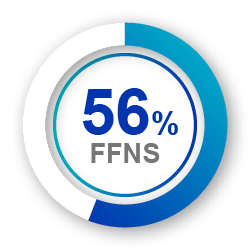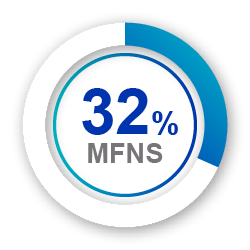 Overall 5 patients (2%) reported AEs with FFNS and 13 patients (4%) with MFNS. Few common AEs were reported: rhinorrhoea, nasal discomfort, cough. No severe safety issues were identified during the study. 8
*Multicentre, randomised, double-blind, cross-over study where patient (n=300) preferences were determined by using three questionnaires
(Overall Preference, Immediate Attributes and Delayed Attributes).
AE: Adverse event; AR: Allergic rhinitis; FFNS: Fluticasone furoate nasal spray; FPNS: Fluticasone propionate nasal spray; MFNS: Mometasone furoate nasal spray.

References:
Adverse events should be reported directly to the Health Products Regulatory Authority (HPRA) on their website: www.hpra.ie . Adverse events should also be reported to GlaxoSmithKline on 1800 244 255.

Avamys is a registered trademark of the GlaxoSmithKline group of companies