Relvar Ellipta is an easy to use device with three simple steps1 that is both preferred by patients, and leads to fewer critical errors, vs other asthma devices2
How to use Relvar Ellipta

How does Relvar Ellipta compare with other devices?

Ellipta is preferred by patients vs Turbohaler, Diskus and MDI, with fewer patients making critical errors vs Turbohaler.2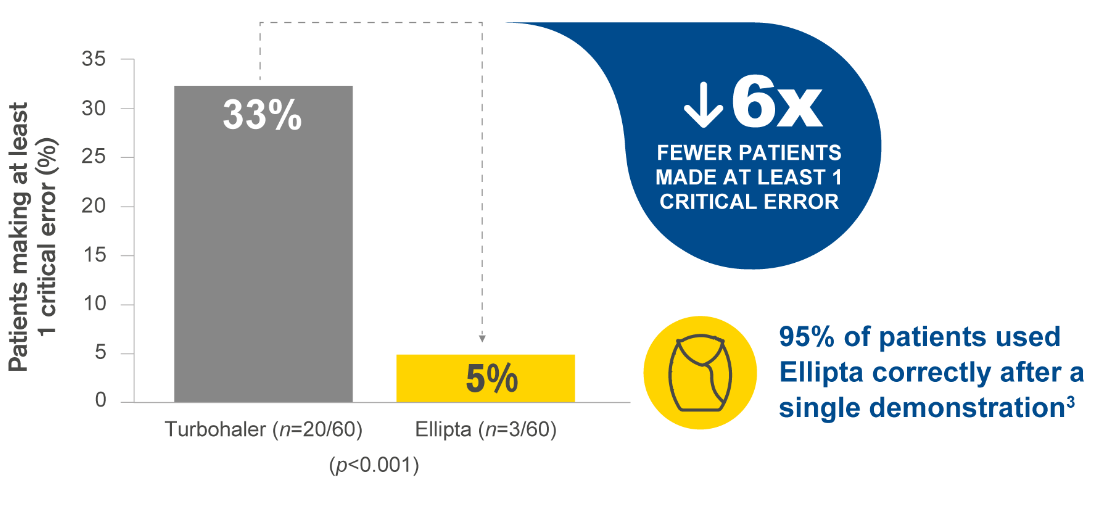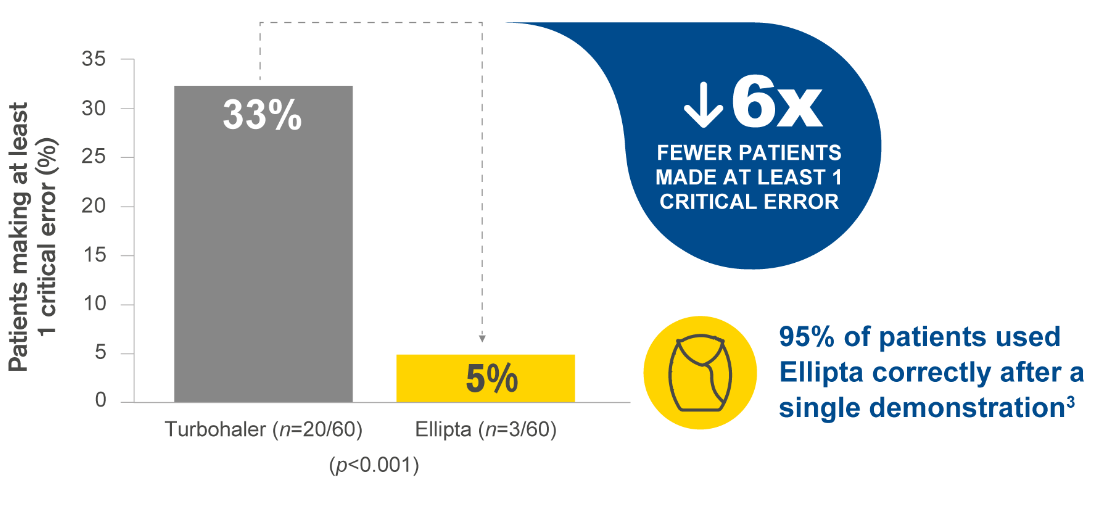 This graph has been independently created by GSK from the original data. The same results were first published in van der Palen J, et al. NJP Prim Care Respir Med 2016; 26:16079.
MDI and Diskus did not meet statistical significance.
Critical error defined as errors that are likely to result in no or minimal medication being inhaled.2

From educational videos to podcasts, Breathing Space is a GSK initiative designed to share the latest thinking on lung health and provide a space for pulmonologists and other respiratory specialists to gather insights and explore best practice.

Need help with this product?
Abbreviations
MDI, metered dose inhaler.

Global Datasheet Fluticasone furoate/vilanterol: v11, March 2020.

van der Palen J,

et al. NJP Prim Care Respir Med

2016;26:16079.

Svedsater H,

et al. NPJ Prim Care Respir Med

2014;24:14019.
RELVAR Ellipta was created in collaboration with
Adverse events should be reported directly to the Health Products Regulatory Authority (HPRA) on their website: www.hpra.ie . Adverse events should also be reported to GlaxoSmithKline on 1800 244 255.
Relvar is a registered trademark of the GlaxoSmithKline group of companies
A.G. Last updated: May 2021 PM-IE-FFV-WCNT-210006