Welcome to GSK Respiratory
In these pages you can find out about our Ellipta portfolio of medicines. You can also access useful resources for you and your patients and hear expert perspectives on a range of respiratory topics.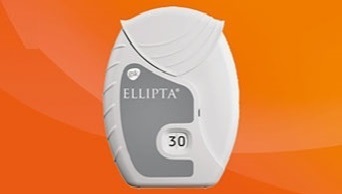 Ellipta demonstration device

Demonstration device for healthcare professionals to show patients how to use the Ellipta device correctly.
IMPORTANT: The Ellipta demonstration device is intended for demonstrating only and not for patient use. Patients should not put the demonstration inhaler in their mouth.
Adverse events should be reported directly to the Health Products Regulatory Authority (HPRA) on their website: www.hpra.ie. Adverse events should also be reported to GlaxoSmithKline on 1800 244 255.
▼ These medicinal products are subject to additional monitoring. This will allow quick identification of new safety information. Healthcare professionals are asked to report any suspected adverse reactions.
Trade marks are owned by or licensed to the GSK group of companies