Proven and tested in eosinophilic disease3
Help your patients with recurrent nasal polyps today with Nucala1

Nucala is indicated as an add-on therapy with intranasal corticosteroids for the treatment of adult patients with severe CRSwNP (Chronic Rhinosinusitis with Nasal Polyps) for whom therapy with systemic corticosteroids and/or surgery do not provide adequate disease control.3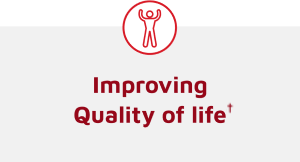 In the SYNAPSE study, all primary and secondary endpoints were met with statistical significance.1
Improvement in nasal polyp size. Mean (SD) change from baseline in total endoscopic nasal polyp score at Week 52: NUCALA + SOC** (n=206), -0.9 (1.90) (baseline score: 5.4) vs placebo + SOC** (n=201), -0.1(1.46) (baseline score: 5.6); P<0.0001.1,2

Improvement in nasal obstruction. Mean (SD) change from baseline in nasal obstruction VAS score at Weeks 49-52: NUCALA + SOC** (n=206), -4.2 (3.42) (baseline score: 8.9) vs placebo + SOC** (n=201), -2.5 (3.15) (baseline score: 9.0); P<0.0001.1,2

Improvement in need for surgery. Time to next nasal polyp surgery up to Week 52: 57% reduction in the proportion of patients who had surgery with NUCALA + SOC** vs placebo + SOC**, HR: 0.43, 95% CI: 0.25-0.76; p=0.0032. Nucala: n=18/206; placebo: n=46/201.1

Improvement in quality of life. Median change from baseline in SNOT-22 total score at Week 52;
NUCALA + SOC**, 30-point improvement vs placebo + SOC**, 14-point improvement; P=0.0032.1
SELECTED SAFETY INFORMATION
Warnings/Precautions: Should not be used to treat acute asthma exacerbations. Patients should be instructed to seek medical advice if their asthma remains uncontrolled or worsens after starting treatment. Abrupt discontinuation of corticosteroids after initiation of mepolizumab treatment is not recommended.
Allergic reactions: Acute and delayed systemic reactions, including hypersensitivity reactions, have occurred following administration of mepolizumab. Patients should be instructed to seek medical attention immediately if allergic reactions occur. In the event of a hypersensitivity reaction, appropriate treatment as clinically indicated should be initiated.
Parasitic infections: Pre-existing helminth infections should be treated before starting therapy. If patients become infected whilst receiving treatment with mepolizumab and do not respond to anti-helminth treatment, temporary discontinuation of therapy should be considered.
Organ-threatening or life-threatening manifestations of EGPA and HES: Has not been studied.
Adverse reactions: In clinical studies in patients with severe refractory eosinophilic asthma and EGPA, headache, injection site reactions and back pain were the most commonly reported adverse reactions during treatment. In patients with CRSwNP: Headache and back pain. In patients with HES: Headache, urinary tract infection, injection site reactions and pyrexia.
Nucala is a once-monthly biologic with a fixed-dose treatment for your patients with nasal polyps
The recommended dose of mepolizumab is 100 mg administered SC once every 4 weeks.3
IN HOSPITAL
PRE-FILLED SYRINGE
IN HOSPITAL
POWDER FOR SOLUTION
Video guidance prefilled Pen
Video guidance prefilled Syringe
Video guidance Powder for solution
**SOC defined as daily mometasone furoate nasal spray in addition to saline nasal irrigations and courses of systemic corticosteroids and/or antibiotics as required.1,2
CI, confidence interval; CRSwNP, chronic rhinosinusitis with nasal polyps; MOA, mode of action; HR, hazard ratio; IL, interleukin; LS, least squares; SC, subcutaneous; SNOT-22, sino-nasal outcome test (22-item); SOC, standard of care; VAS, visual analogue scale.
Han JK

et al. Lancet Respir Med

.2021;9:1141-1153
Han JK

et al. Lancet Respir Med

.2021;9:1141-1153 (Supplementary)
Nucala is a trademark of the GSK group of companies
PM-NO-MPL-WCNT-230002 June 2023